Filters
Host Donations (high to low)
Newest First
Price (low to high)
Price (high to low)
Rating
Number of Reviews
Tailor-Made Tours
Can't find what you're looking for? We can plan a custom-made food experience or itinerary just for you.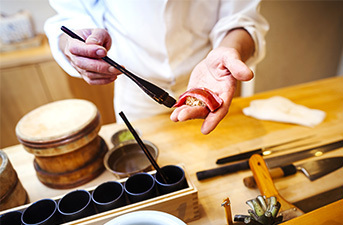 Find Top Vegan Cooking Classes in Japan
Vegan food is on the rise in Japan and nowadays, you can find vegan restaurants in Tokyo and enjoy delicious plant-based meals. But many of these restaurants are focused on Western cuisine, and it can still be difficult to find vegan Japanese food. Many non-vegan Japanese ingredients are "invisible," like the fish flakes that are used to make some types of broth. Restaurant staff in Japan may also be unfamiliar with the vegan diet. But thankfully, if you're vegan in Japan, and want to learn how to make vegan Japanese food, you have many options to choose from.
You can find vegan cooking classes in Tokyo, take vegan cooking lessons in Osaka, and find Japanese cooking instructors all over Japan! Learn how to make vegan ramen and gyoza, vegan sushi, and healthy plant-based bento boxes. Wagashi, traditional Japanese sweets, are also made without eggs or dairy. If you're vegan in Japan, you can still enjoy yourself during vegan cooking classes in Japan. And, as an added bonus, you'll also get the recipes and skills to take home. Then, you can wow your family and friends with your vegan cooking chops!