Filters
Host Donations (high to low)
Newest First
Price (low to high)
Price (high to low)
Rating
Number of Reviews
Japanese Halal Food! Okonomiyaki and Soup Cooking Class
Enrich your Japanese food experience by not only eating it, but learning how to make it! Make okonomiyaki and golden soup using halal-certified ingredients and equipment, ensuring safety and comfort.
(1)
Tailor-Made Tours
Can't find what you're looking for? We can plan a custom-made food experience or itinerary just for you.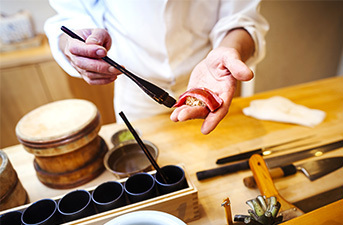 Takoyaki Cooking Classes in Tokyo
Everyone's favorite Japanese street food is takoyaki, those lava-hot balls of batter with the gooey, creamy center stuffed with chewy octopus pieces. Topped with your choice of sauce, mayo, and dried fish flakes, steaming takoyaki is flavorful and delicious. While it's a staple of shopping streets and festivals across Japan, takoyaki is also fun to make at home! Join a takoyaki cooking class in Tokyo and learn to make your own takoyaki from scratch. Called tako-pa in Japanese (short for "takoyaki party"), these takoyaki making gatherings are a fun way to bring together family and friends. With just a few basic ingredients and the specialty takoyaki pan (necessary to make takoyaki with that perfectly round shape), you can master takoyaki with the help of a kind cooking instructor during these takoyaki cooking classes in Tokyo!