Filters
Host Donations (high to low)
Newest First
Price (low to high)
Price (high to low)
Rating
Number of Reviews
Tailor-Made Tours
Can't find what you're looking for? We can plan a custom-made food experience or itinerary just for you.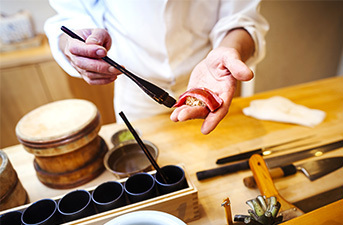 Yakitori Cooking Classes in Tokyo
Succulent skewers of chicken with a lovely smoky aroma, yakitori are a staple of the Japanese street food scene. You can find yakitori joints all over Tokyo, from lively izakayas where the tasty skewers are paired with beer to little street food stalls where the owner nimbly flips the skewers over hot charcoals. You can even learn to make these juicy chicken bites for yourself, during yakitori cooking classes in Tokyo with the guidance of a local cooking instructor. With delicious local meats and vegetables, you'll prepare the skewers of meat and the various types of seasoning, to the soy sauce glaze to simple salt. Bursting with juicy flavor and smoky aroma, this yakitori cooking class in Tokyo will show you how simple and high-quality ingredients can be transformed into a delicious meal.