Filters
Host Donations (high to low)
Newest First
Price (low to high)
Price (high to low)
Rating
Number of Reviews
Okonomiyaki Cooking Class at Hiroshima Station
There's no better place to learn how to make okonomiyaki than Hiroshima, the birthplace of the dish. At the Otafuku okonomiyaki sauce studio, join this cooking class and make a savory pancake using your favorite toppings and mix-ins!
(2)
Online Hiroshima Style Okonomiyaki Cooking Class
Experience Hiroshima food culture from the comfort of your own home during this virtual okonomiyaki cooking class! Learn the traditional recipe and cooking techniques of this iconic Japanese dish, and bring a taste of Hiroshima into your home.
(1)
Tailor-Made Tours
Can't find what you're looking for? We can plan a custom-made food experience or itinerary just for you.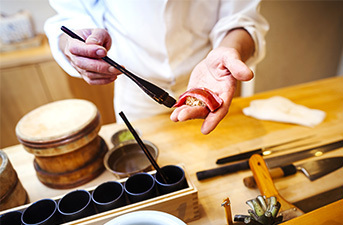 Okonomiyaki Cooking Classes in Hiroshima
Not to be confused with Kansai-style (or Osaka-style) okonomiyaki, Hiroshima okonomiyaki is the savory pancake that is cooked in layers and stacked. Okonomiyaki translates to something like "grilled as you like it" ("okonomi" meaning "whatever you want" and "yaki" meaning "grilled"). During these okonomiyaki cooking classes in Hiroshima, you will learn to construct your own Hiroshima okonomiyaki, just the way you like it. Starting with a thin, crepe-like circle of batter, a mountain of shredded cabbage, and stir-fried yakisoba noodles, you can then add whatever additional layers you please. Often Hiroshima-style okonomiyaki contains strips of meat or seafood, and a fried egg. Lastly, the top layer is brushed generously with a sweet-savory sauce. These okonomiyaki cooking classes in Hiroshima are especially fun as a group activity! So browse the variety of okonomiyaki cooking classes on byFood and find the perfect one for you, then let's heat up the teppan griddle and get cooking!