Filters
Host Donations (high to low)
Newest First
Price (low to high)
Price (high to low)
Rating
Number of Reviews
Ramen Noodle Making Experience in Kyoto
If ramen noodles aren't accessible in your home country, how about learning how to make it from scratch? At a ramen shop in Kyoto's historic Gion district, you'll mix, roll, and cut your dough, and compare 3 different styles of ramen noodles.
(8)
Tailor-Made Tours
Can't find what you're looking for? We can plan a custom-made food experience or itinerary just for you.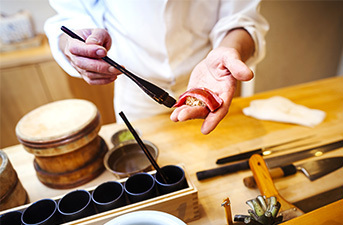 Ramen Cooking Classes in Kyoto
When you think of Kyoto, Japan's ancient capital city, you probably don't think about ramen. But every region of Japan has its own specialty ramen, and Kyoto is certainly no exception. Kyoto ramen is made with a shoyu (soy sauce) and chicken-based broth. It's quite simple but unbelievably tasty. You can also join ramen cooking classes in Kyoto, for a bit of hands-on action. During these Kyoto ramen cooking classes, you can join professional chefs in their kitchens, or cooking instructors in their studios. Learn from the best and find out how to make the tastiest broths and chewiest ramen noodles. Delicious ramen nourishes not only the body, but also the soul. And the best part is, these are skills that you can carry with you for the rest of your life, feeding your family and friends. Browse ramen cooking classes in Kyoto and find your perfect teacher. These fun classes will be the highlight of your trip to Japan!