Filters
Host Donations (high to low)
Newest First
Price (low to high)
Price (high to low)
Rating
Number of Reviews
Osaka-Style Okonomiyaki Cooking Class
Osaka's iconic savory pancake, okonomiyaki is calling your name! With Yoko-sensei, a certified food coordinator and licensed guide, you'll learn how to make Osaka-style okonomiyaki along with two side dishes and the Japanese omelet, tamagoyaki.
Tailor-Made Tours
Can't find what you're looking for? We can plan a custom-made food experience or itinerary just for you.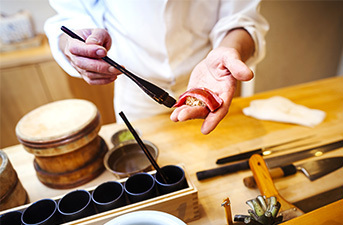 Okonomiyaki Cooking Classes in Osaka
Thought to have originated in Osaka, okonomiyaki is an essential part of Osaka's street food tradition. A savory pancake made of a mix of batter, finely chopped cabbage, other veggies, meat or seafood, Osaka-style okonomiyaki is distinct from its Hiroshima-style counterpart (which has layers of pancake, fried egg, cabbage, meat, and other ingredients). You can get it hot and fresh from a street food stall or watch chefs tending mounds of okonomiyaki grilling on the teppan (hot plate). Or, you could make it for yourself and get a little hands-on action during these okonomiyaki cooking classes in Osaka! The best part of okonomiyaki (which roughly translates to "grilled as you like it") is that it is a versatile dish, which can be made with any ingredients you choose. Once you get the hang of the basic batter recipe and flipping technique, you can feel free to mix it up with new and unique flavor combinations. Join an okonomiyaki cooking class in Osaka and pave the way for your culinary exploration of this classic Kansai dish!