Filters
Host Donations (high to low)
Newest First
Price (low to high)
Price (high to low)
Rating
Number of Reviews
Tailor-Made Tours
Can't find what you're looking for? We can plan a custom-made food experience or itinerary just for you.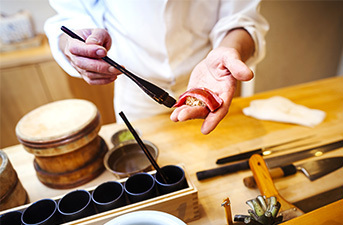 Takoyaki Cooking Classes in Osaka
Typically grilled in front of you at a street food stall, oozing takoyaki octopus balls are the bite-sized street food snack that's unique to Japan. Originating from Osaka, these sizzling and gooey-centered octopus balls are certainly a signature dish of morish Kansai region cuisine that's a must-try! Now popular throughout Japan, takoyaki is widely sold at a range of convenience stores and Japanese restaurants, with even more flavors and toppings available at specialty takoyaki stores or when you make them at a takoyaki cooking class in Osaka. Delicious and dumpling-like, these flavorful octopus balls are grilled on a specific takoyaki pan with a special turning technique. If you are visiting Osaka, why not give it a try? Learn how to make this unusual but essential Kansai street food by joining a takoyaki cooking class in Osaka, perfect with an ice cold beer! Roll up your sleeves and get ready to mix the batter, add the octopus pieces, and get grilling till they turn perfectly golden brown!