Filters
Host Donations (high to low)
Newest First
Price (low to high)
Price (high to low)
Rating
Number of Reviews
Cherry Blossom Festival: Evening in Nakameguro 2023
Celebrate sakura season in style during this food tour in chic Nakameguro. When evening falls, the cherry blossom trees lining the river are aglow in a wash of pink—a stunning sight that's made all the more special with tasty treats.
Cherry Blossoms 2023 Hanami and Food Tour in Yanaka
Celebrate cherry blossom season during this unique tour in the charming neighborhood of Yanaka. Feel the spirit of this eclectic neighborhood with a local guide, taste local street foods, and stop by famous galleries, then enjoy a hanami bento box.
Kyoto Cherry Blossom Food Tour 2023
Stroll through central Kyoto, streets flanked with blooming cherry blossom trees, visiting shops and tasting local snacks as you go, and enjoy a flower-viewing picnic. Then, stop at a traditional restaurant for a meal of local Kyoto specialties.
Tailor-Made Tours
Can't find what you're looking for? We can plan a custom-made food experience or itinerary just for you.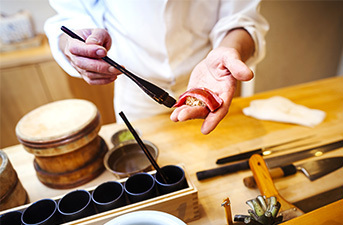 The culture of Japan moves in time with the seasons, and the world of food and drink is no different. When spring arrives and the the sakura trees bloom, picnickers take to the parks with their bento boxes and bottles of umeshu plum wine. At the summer festivals, cold noodle dishes and unique citrus fruits are served to beat the heat.
Then, as the leaves turn to their autumnal shades in fall, warm dishes packed with mushrooms and root vegetables come to the fore. And with winter, you'll find the pots of warm oden stew simmering on the countertops of every izakaya worth its salt.
To understand traditional Japanese cuisine, you have to tune into all these seasonal changes, and the special ingredients that come and go throughout the year. Joining one of these seasonal tours in Japan is the perfect way to experience the unique charms of the season, whether it's a hanami party under the cherry blossoms or a foraging hike through a snow-covered forest.