Filters
Host Donations (high to low)
Newest First
Price (low to high)
Price (high to low)
Rating
Number of Reviews
Tailor-Made Tours
Can't find what you're looking for? We can plan a custom-made food experience or itinerary just for you.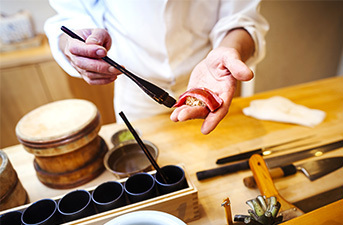 The culture of Japan moves in time with the seasons, and the world of food and drink is no different. When spring arrives and the the sakura trees bloom, picnickers take to the parks with their bento boxes and bottles of umeshu plum wine. At the summer festivals, cold noodle dishes and unique citrus fruits are served to beat the heat.
Then, as the leaves turn to their autumnal shades in fall, warm dishes packed with mushrooms and root vegetables come to the fore. And with winter, you'll find the pots of warm oden stew simmering on the countertops of every izakaya worth its salt.
To understand traditional Japanese cuisine, you have to tune into all these seasonal changes, and the special ingredients that come and go throughout the year. Joining one of these seasonal tours in Japan is the perfect way to experience the unique charms of the season, whether it's a hanami party under the cherry blossoms or a foraging hike through a snow-covered forest.