Filters
Host Donations (high to low)
Newest First
Price (low to high)
Price (high to low)
Rating
Number of Reviews
Osaka Style Okonomiyaki Cooking Class
Central to food parties and family gatherings, the Japanese savory pancake known as "okonomiyaki" is a crowdpleaser that's also fun to make! Make okonomiyaki alongside two side dishes, with instructions from an English-speaking cooking teacher.
(2)
Japanese Halal Food! Okonomiyaki and Soup Cooking Class
Enrich your Japanese food experience by not only eating it, but learning how to make it! Make okonomiyaki and golden soup using halal-certified ingredients and equipment, ensuring safety and comfort.
(1)
Tailor-Made Tours
Can't find what you're looking for? We can plan a custom-made food experience or itinerary just for you.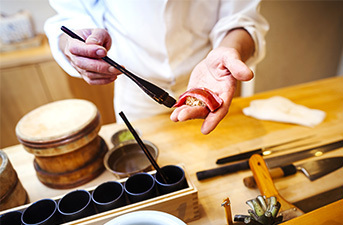 Okonomiyaki Cooking Classes in Tokyo
One of Japan's most beloved foods, okonomiyaki can be found along shopping streets and traditional Japanese sit-down restaurants alike. There are two main styles of okonomiyaki: Hiroshima-style okonomiyaki and Osaka-style (also known as Kansai-style) okonomiyaki. The name of this savory pancake roughly translates to "cooked as you like it," which refers to the versatility of the dish. With Osaka-style okonomiyaki, all the ingredients are mixed together, consisting of batter, meat or seafood, cabbage, crunchy tempura flakes, and egg. As you'll learn in these okonomiyaki cooking classes in Tokyo, you can add whatever your heart desires, from kimchi and pork to shrimp and cheese. Meanwhile, Hiroshima-style okonomiyaki is more traditional, separate layers of ingredients, starting with thin, crepe-like base, which is topped with a mountain of cabbage and stir-fried yakisoba noodles, as well as meat or seafood. Usually, it's all topped off with a generous slather of okonomiyaki sauce and a big handful of chopped green onions. So take part in an okonomiyaki cooking class in Tokyo and get in on the fun!