Filters
Host Donations (high to low)
Newest First
Price (low to high)
Price (high to low)
Rating
Number of Reviews
Tailor-Made Tours
Can't find what you're looking for? We can plan a custom-made food experience or itinerary just for you.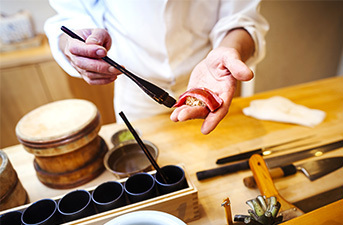 Udon Cooking Classes in Tokyo
Make the thick, impossibly chewy udon noodles of your dreams during these udon cooking classes in Tokyo! With the help of your cooking instructor, you'll learn the secrets to kneading perfect udon dough (hint: you won't need your arm strength for this one) and use traditional tools to hand-cut perfect noodles. Udon noodles can be enjoyed chilled as tsukemen (dipping noodles), as part of a stir-fry, or in a noodle soup or hot pot dish like shabu-shabu. As the recipe for udon uses simple ingredients that are easily found worldwide, you'll be able to make udon noodles in your own home kitchen! Just by learning the tips and tricks from your cooking teacher during an udon cooking class in Tokyo, you'll never have to hunt down pre-packaged udon noodles ever again. These udon cooking classes will also teach you how to make side dishes, such as tempura, to pair with your udon. So browse these delicious udon making classes on byFood and get cooking!