Fukuoka: Friendly faces, stunning beaches, fiery volcanoes, and more restaurants than the eye can see— it's not hard to see why Fukuoka is so inviting. Join one of our curated, bar-hopping experiences to see this megacity come alive after dark!
Filters
Host Donations (high to low)
Newest First
Price (low to high)
Price (high to low)
Rating
Number of Reviews
Fukuoka After Dark: Bar Hopping and Street Food Adventure
Discover Fukuoka after dark for a bar hopping and street food adventure that you'll want to write home about! Gain exclusive access to hidden watering holes and take in the city's nightlife scene alongside a colorful host.
(2)
Tour Fukuoka's Nakasu Neighborhood: Snack Bars & Katsudon
Embark on a culinary journey in Fukuoka's Nakasu! Explore unique local snack bars, sip shochu and whisky, traverse Ningyo Shoji bar alley, and conclude with a katsudon dinner. Experience the essence of Fukuoka's gastronomic delights!
Tailor-Made Tours
Can't find what you're looking for? We can plan a custom-made food experience or itinerary just for you.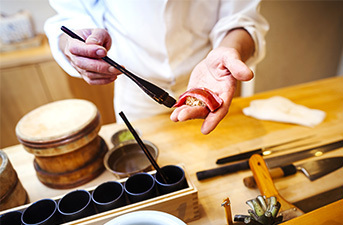 Fukuoka Bar Hopping
Fukuoka is planted firmly on the north shore of Kyushu island–famed for its mighty volcanoes, stunning beaches, friendly faces, and more restaurants than the eye can see (second only to Tokyo, Fukuoka boasts the most restaurants per 1000 people in Japan).
Fukuoka City
Fukuoka as we know it was formed in 1889 when the port city of Hakata and the samurai town of Fukuoka merged to create one megacity—a place where tradition and modernity unite. This fusion is evident in the culture, customs, traditions, and beyond. A vital hub for international trade, the automobile industry, and culinary tourism, it's easy to see why Fukuoka is one of the biggest and busiest cities in Japan. That being said, it's no surprise that Fukuoka has a vibrant nightlife scene where sake and street food combine. From nightclubs and bars to live music venues and food stalls, there's something for everyone after dark. With so much to see and do (and so many side streets to explore), let our Fukuoka bar-hopping experiences be your guide.
Fukuoka Nightlife
Fukuoka's nightlife is a perfect blend of modern sophistication and traditional charm. The city offers an array of venues to suit every taste and preference. Whether you're in the mood for a laid-back evening at a cozy bar or a night of dancing at a vibrant club, Fukuoka has got you covered. One of the best ways to experience Fukuoka's nightlife is through the art of bar hopping. This exciting activity involves exploring multiple bars in one night, hopping from one lively spot to another, and immersing yourself in the diverse atmospheres and drinks that each place has to offer. The beauty of bar hopping is that it allows you to sample a variety of experiences, mingle with locals and fellow travelers, and discover hidden gems that you might not have found otherwise.
Nakasu District
Start your night in the bustling district of Nakasu, known for its pumping nightlife scene. Here, you'll find a plethora of bars, izakayas, and entertainment venues lining the streets. From cozy whiskey bars to trendy cocktail lounges, Nakasu has something for everyone. As you venture further into the city, make your way to the hip neighborhood of Daimyo. This trendy district is a hotbed for the city's young and fashionable crowd. Its streets are lined with stylish bars and chic establishments, where you can sip on creative cocktails and enjoy the ambiance. Daimyo offers a perfect blend of modern sophistication and a laid-back vibe, creating an atmosphere that is both trendy and approachable.
Fukuoka Street Food
If you're looking for a unique twist on your bar-hopping adventure, head to Fukuoka's famous yatai stalls. These open-air food stalls are an integral part of Fukuoka's culinary culture and come alive at night. Grab a seat at one of the stalls, order a refreshing drink, and indulge in an array of mouthwatering street food. From savory yakitori skewers to rich and flavorful ramen, the yatai stalls offer a delectable culinary experience that perfectly complements your bar-hopping adventure.
Fukuoka Bars
To add a touch of sophistication to your night out, Fukuoka is home to a number of chic rooftop bars. These elevated havens provide breathtaking views of the city skyline, creating a memorable backdrop for a night of drinks and conversation. Sip on a handcrafted cocktail while taking in panoramic views of Fukuoka's twinkling lights, and let the atmosphere whisk you away to a world of elegance and relaxation.
Fukuoka Entertainment
Fukuoka's nightlife scene is not just limited to bars and clubs. The city also offers a diverse range of entertainment options that guarantee a fun-filled night. Catch a live music performance at one of Fukuoka's renowned music venues, where local and international artists take the stage. From jazz and rock to electronic beats, there's always a captivating performance to suit your musical taste. For those who love to dance the night away, Fukuoka's club scene has got you covered. The city boasts a variety of clubs that cater to different music genres and styles. Whether you're into techno, hip-hop, or house music, you'll find a club that matches your rhythm and keeps you grooving until the early hours of the morning.
What makes Fukuoka's nightlife so special is the warmth and friendliness of its people. The locals are known for their welcoming nature and their genuine desire to ensure you have a good time. Don't be surprised if you strike up conversations with friendly strangers and find yourself making new friends throughout the night.
Whether you're a seasoned partygoer or looking for a night of fun and adventure alongside new friends, Fukuoka's nightlife scene has something for everyone. From intimate bars to lively clubs, yatai stalls to rooftop lounges, the city offers a diverse and thrilling experience that will leave you with unforgettable memories. Embrace the energy, embrace the excitement, and let Fukuoka show you how to party like a local. Kanpai to an epic night out in the city of Fukuoka!