Filters
Host Donations (high to low)
Newest First
Price (low to high)
Price (high to low)
Rating
Number of Reviews
Tailor-Made Tours
Can't find what you're looking for? We can plan a custom-made food experience or itinerary just for you.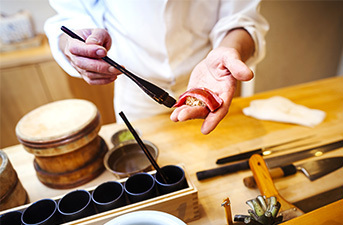 Japan Tea Farm Tours
As a quintessential part of Japan's history and Japanese food culture, different types of tea in Japan play a role in everyday life. Whether it be warm from a vending machine in winter, served with ice at a fast food joint in summer, or at a Japanese tea ceremony enjoyed all year round, Japanese tea is found everywhere and served daily. Boasting many flavor varieties ranging from hojicha and sencha through to the famously vibrant matcha green tea, Japanese tea features specialty flavors from farms around Japan. Taste and compare different types of regional tea, or visit a production farm during a Japan tea tour. Enjoy tea from the fertile soils of Kagoshima and its subtropical climate, or join a tea farm tours in the Uji region south of Kyoto City or in the prefecture of Shizuoka, Japan's highest producer of tea. Join a tea tour in Japan to taste samples at a traditional Japanese tea house, or let your taste buds run wild savoring on some of the best green tea in Japan. To head out of the cities and gain a new perspective on unique tea regions of Japan, book an authentic Japan tea tour experience for your next trip.
Find More from Japan