Filters
Host Donations (high to low)
Newest First
Price (low to high)
Price (high to low)
Rating
Number of Reviews
Okonomiyaki Cooking Class at Hiroshima Station
There's no better place to learn how to make okonomiyaki than Hiroshima, the birthplace of the dish. At the Otafuku okonomiyaki sauce studio, join this cooking class and make a savory pancake using your favorite toppings and mix-ins!
(2)
Tailor-Made Tours
Can't find what you're looking for? We can plan a custom-made food experience or itinerary just for you.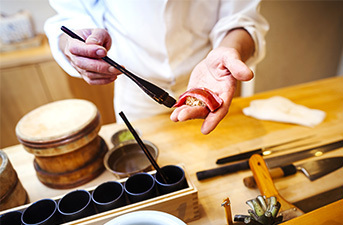 Find The Best Halal Cooking Classes in Hiroshima
Are you heading down to Hiroshima but only eat halal foods? Why not learn a new skill and make your own halal food during one of our halal cooking classes in Hiroshima? A cooking class in Hiroshima is not only the perfect time to try your technique of layering Hiroshima-style okonomiyaki, but also a fantastic place to meet new friends and locals. During one of our halal cooking classes in Hiroshima, you can gain a new perspective on the region as you make local Kansai cuisine dishes with the help of an instructor, who has got your back. They will guide you through the processes and halal ingredients, so you can enjoy the day as you create your halal Japanese food freely. Hiroshima's halal cooking classes use Muslim-friendly ingredients, so you can learn how to make that delicious Hiroshima-yaki without having to worry. You can even learn how to make halal food on Miyajima Island! Almost anyone can enjoy our halal cooking classes in Hiroshima, as we can accommodate for adjustments to ingredients to suit your needs. Check them out here on byFood to cook up a storm in Hiroshima!