Filters
Host Donations (high to low)
Newest First
Price (low to high)
Price (high to low)
Rating
Number of Reviews
Okonomiyaki Cooking Class at Hiroshima Station
There's no better place to learn how to make okonomiyaki than Hiroshima, the birthplace of the dish. At the Otafuku okonomiyaki sauce studio, join this cooking class and make a savory pancake using your favorite toppings and mix-ins!
(1)
Tailor-Made Tours
Can't find what you're looking for? We can plan a custom-made food experience or itinerary just for you.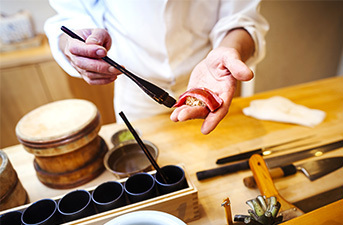 Enroll in Hands-on Vegan Cooking Classes in Hiroshima
Hiroshima is of course a sizeable city, however finding vegan options to eat can be a difficult task. For anyone who is visiting Hiroshima but only eats vegan food, one of the best solutions is to just make it for yourself! Join one of our food cooking classes in Hiroshima where you can learn to make your very own Hiroshima-style food that is both vegan and delicious. Vegan cooking classes in Hiroshima are an excellent way to learn about Japanese culture as well as the possible vegan food alternatives you can turn to during your trip in Japan. Make your own being creations in Hiroshima by joining one of our vegan cooking classes in Hiroshima and learn new skills! Find yourself cooking meat-free and fish-free ramen, or tasty vegan tempura! You can discover how to make all kinds of delicious veggie dishes up close, without hidden fish or meat elements. So, there's no need to hold back! Join one of our vegan cooking classes in Hiroshima here on byFood.