Filters
Host Donations (high to low)
Newest First
Price (low to high)
Price (high to low)
Rating
Number of Reviews
Okonomiyaki Cooking Class at Hiroshima Station
There's no better place to learn how to make okonomiyaki than Hiroshima, the birthplace of the dish. At the Otafuku okonomiyaki sauce studio, join this cooking class and make a savory pancake using your favorite toppings and mix-ins!
(1)
Online Hiroshima Style Okonomiyaki Cooking Class
Experience Hiroshima food culture from the comfort of your own home during this virtual okonomiyaki cooking class! Learn the traditional recipe and cooking techniques of this iconic Japanese dish, and bring a taste of Hiroshima into your home.
(1)
Tailor-Made Tours
Can't find what you're looking for? We can plan a custom-made food experience or itinerary just for you.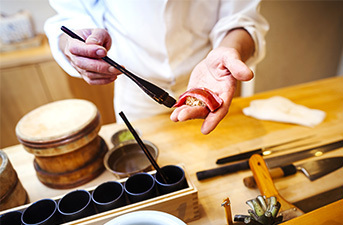 Join The Best Cooking Classes in Hiroshima
The friendly city of Hiroshima has so much to offer in terms of atmosphere, attractions, and unique culinary creations. The lively downtown area buzzes with local restaurants and shops, while the gorgeous nature and culture thrives at the majestic shrine on Miyajima island. Not to forget the Peace Dome and Peace Memorial Park. There are plenty of things to do in Hiroshima, however, for those looking for a different kind of cultural experience, why not try one of our Hiroshima cooking classes on your next visit?
Cooking classes in Hiroshima offer the chance to meet other like-minded travellers visiting the southern part of Honshu while you learn to make some delicious Japanese for yourself! Or, if it's a private class, it can be a great activity for groups. Either way, cooking classes in Hiroshima offer an intimate opportunity to find out the answers to all your questions about Japanese cuisine from your helpful cooking instructor. You can learn how to make Hiroshima-yaki (a.k.a. Hiroshima-style okonomiyaki) from scratch, or discover the secrets to making a hearty bowl of ramen. You can even join one of our Hiroshima cooking classes held on Miyajima Island (complete with kimono rental!) to really elevate your day trip experience to the next cultural level. You could be preparing higashi candies, or learning about the humble art of the Japanese tea ceremony. With plenty of exciting Hiroshima cooking lessons for all ability levels, enjoy a memorable day of making your own Hiroshima creations by joining one of our Hiroshima cooking classes.