Filters
Host Donations (high to low)
Newest First
Price (low to high)
Price (high to low)
Rating
Number of Reviews
Okonomiyaki Cooking Class at Hiroshima Station
There's no better place to learn how to make okonomiyaki than Hiroshima, the birthplace of the dish. At the Otafuku okonomiyaki sauce studio, join this cooking class and make a savory pancake using your favorite toppings and mix-ins!
(1)
Tailor-Made Tours
Can't find what you're looking for? We can plan a custom-made food experience or itinerary just for you.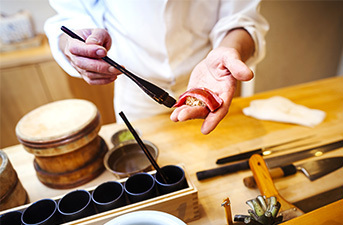 Find The Top Vegetarian Cooking Classes in Hiroshima
Are you a vegetarian who likes to cook, and are heading down to Hiroshima? That's great because Hiroshima is famous for its local style of okonomiyaki, but this doesn't have to include meat. Layered with cabbage, eggs, and bean sprouts, Hiroshimayaki can be absolutely delicious! You can discover the secrets of making delicious Hiroshimayaki by joining one of our vegetarian cooking classes in Hiroshima.
At a local home, in a downtown cooking studio, or even on Miyajima Island, you can learn tips and tricks on how to cook Japanese food that's meat-free and delicious! One of our vegetarian cooking classes in Hiroshima offers the best opportunity to learn about Japanese culture and local ingredients. Our vegetarian cooking classes in Hiroshima can teach you how to pack your dishes with flavor without using meat! For a healthier and equally delicious vegetarian meal, check out our vegetarian cooking classes in Hiroshima. You never know, you might find yourself making soba noodles or vegetarian sushi from scratch on your next trip to Hiroshima!