Filters
Host Donations (high to low)
Newest First
Price (low to high)
Price (high to low)
Rating
Number of Reviews
The Ultimate Osaka Night Tour
Dive into the nightlife of Osaka with a local guide, hitting the best local gastropubs and hidden bars in Japan's vibrant food capital! Explore the backstreets of Namba, the neon-lit waterside of Dotonbori, and the party hub of Shinsaibashi.
Tailor-Made Tours
Can't find what you're looking for? We can plan a custom-made food experience or itinerary just for you.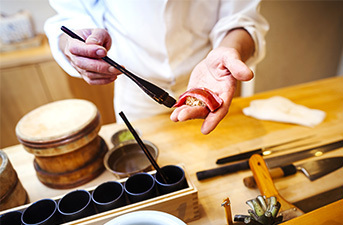 Osaka Bar Hopping
The capital city of Kansai is well-known for its friendly and laid back culture! Get ready to explore some of the best local bars, restaurants and izakayas on an unforgettable night out in Osaka's wild city streets. More than your average street food tour, Osaka bar hopping is must-do for any party-goers in Osaka as when the city lets loose at night, it is certainly a sight to behold. Immerse yourself in the city's busy nightlife while neon flickers overhead as you wend your way through tiny backstreet alleyways with standing bars or family-run pubs. Late night all-you-can-eat diners thrive next door to rowdy all-night izakayas overflowing with office workers (chasing the stresses of the day away with a cold beer or five) and find Dotombori's bars crowded until the early hours. Discover different districts when Osaka bar hopping, such as the Shinsekai "new world" or the hippest bars in central Namba or youthful Amemura ("American Village"). Explore all kinds of local izakayas and the city's best drinking holes, and even enjoy glorious Kansai cuisine on the side (like sizzling slabs of signature okonomiyaki or bite-sized takoyaki balls). See where the night takes you as you enjoy some of the best bars in Osaka with local Japanese food and drinks.