Nightlife in Osaka caters to various tastes and welcomes drinkers from near and far. From the neon lights of Dotonbori and Namba to the whispers of Osaka's backstreets, you'll find unforgettable experiences and boozy revelry around every corner.
Filters
Host Donations (high to low)
Newest First
Price (low to high)
Price (high to low)
Rating
Number of Reviews
Tailor-Made Tours
Can't find what you're looking for? We can plan a custom-made food experience or itinerary just for you.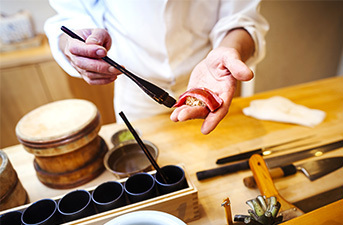 Frequently Asked Questions
What Is the Legal Drinking Age in Japan?
In Japan, the legal drinking age is 20 years old. Individuals must be at least 20 years old to purchase and consume alcoholic beverages.
What Can I Expect From an Osaka Bar Hopping Tour?
Osaka Bar Hopping is a popular activity where you explore the vibrant nightlife of Osaka by visiting multiple bars in one evening. It's a fantastic way to experience the local culture, try different drinks, and socialize with fellow travelers and locals.
How Does an Osaka Bar Hopping Experience Work?
When you join an Osaka Bar Hopping tour, a knowledgeable guide will lead you to handpicked bars, ensuring you have a memorable night. You'll get to taste a variety of drinks, including local specialties, and learn about the city's bar scene from a local perspective.
How Long Does an Osaka Bar Hopping Tour Last?
An Osaka Bar Hopping tour typically ranges from 3 to 4 hours. This allows enough time to visit multiple bars, enjoy the ambiance, and immerse yourself in the vibrant nightlife. You can find further information about tour duration on the experience page or via communication with your host.
Is Osaka Bar Hopping Suitable for Solo Travelers?
Absolutely! Osaka Bar Hopping is a fantastic way for solo travelers to meet new people and have a great time. You'll join a group of like-minded individuals, making it easy to initiate conversations and forge new friendships over drinks.
Can I Join Osaka Bar Hopping if I Don't Drink Alcohol?
Absolutely! Osaka Bar Hopping tours are not just about alcohol; they are about enjoying the vibrant atmosphere, socializing, and experiencing the local culture. Non-alcoholic drink options are often available, so everyone can have a great time.
Is Osaka Bar Hopping Suitable for People With Dietary Restrictions?
Yes, Osaka Bar Hopping experiences strive to accommodate various dietary restrictions. It's important to inform the tour organizers about your dietary requirements, and they will do their best to ensure you have a fantastic experience with suitable food and drink options.
Are the Drinks Included in the Osaka Bar Hopping Tour Price?
Yes, the price of an Osaka Bar Hopping tour usually includes a set number of drinks at each bar you visit. However, additional drinks or premium options may require extra payment. It's always a good idea to check the tour details to understand what is included.
Do I Need to Tip at the Bars During an Osaka Bar Hopping Tour?
Tipping is not customary in Japan, including at bars. The service charge is already included in the prices of drinks. However, if you receive exceptional service and want to show your appreciation, a polite thank you or compliment will be more than enough.
What Should I Wear for an Osaka Bar Hopping Tour?
Unless specified, there is no strict dress code for Osaka Bar Hopping, but it's best to dress comfortably and appropriately for a night out. Smart casual attire is generally recommended. Wear something that allows you to relax and enjoy the evening without feeling out of place.
Can I Join An Osaka Bar Hopping Tour if I Don't Speak Japanese?
Absolutely! Language barriers are not a problem during our Osaka Bar Hopping tours. ByFood aims to make unique experiences accessible to all, regardless of what language you speak. Our guides are usually fluent in English and will ensure everyone can communicate and have a great time. It's a fantastic opportunity to connect with people from different cultures and backgrounds! In saying that, we aim to include as many cultures and languages as possible. Guides/hosts with different language backgrounds are available on a case-by-case basis or can be arranged upon request.
Is Osaka Bar Hopping Safe?
Yes, our Osaka Bar Hopping tours prioritize safety. ByFood guides know the local area and will take you to reputable bars. However, it's always important to drink responsibly, be aware of your surroundings, and take necessary precautions to ensure your safety.
Can I Bring My Own Alcohol on an Osaka Bar Hopping Tour?
No, it's not typically appropriate to bring your alcohol on an Osaka Bar Hopping tour. The tour is designed to support local businesses and provide a unique experience. Enjoy the various drinks available at each bar and support the local economy.
Can I Smoke at the Bars During Osaka Bar Hopping?
Smoking regulations vary between bars in Osaka. Some bars may have designated smoking areas, while others may be entirely smoke-free. It's always best to ask the staff or your guide about the smoking policy in each establishment to ensure you follow the rules and enjoy your evening.
Can I Join Osaka Bar Hopping if I Have Mobility Issues?
Our Osaka Bar Hopping Tours strive to be as inclusive as possible. However, it's important to note that some bars may have stairs or limited accessibility. If you have specific mobility concerns, it's best to contact the tour organizers in advance, and they will guide on the suitability of the tour for your needs.
What Happens if I Drink Too Much During an Osaka Bar Hopping Experience?
Drinking responsibly is essential during any Osaka Bar Hopping experience. If you feel that you've had too much to drink, it's important to communicate with your guide or fellow participants. They will ensure you receive the necessary assistance and support for your safety and well-being.
How Do I Book an Osaka Bar Hopping Experience?
First, use the search bar and filters to find a specific experience. Then, select the date for the experience and the number of participants. Add extra information–such as dietary restrictions–in the additional notes section. Then, make the payment. If the host has set the experience to 'Instant Confirmation,' the booking will be confirmed automatically. If the host has set the experience to 'Manual Confirmation,' the host will either confirm or reject your booking. You'll likely receive a reply within one business day. After confirmation, you will receive detailed meeting instructions and access info.
Osaka Nightlife
Osaka is renowned for its dynamic nightlife, delicious street food, and warm-hearted locals. When the sun sets, Osaka comes alive with a pulsating energy that beckons locals and visitors to immerse themselves in its spirited bar scene. From hidden speakeasies to lively izakayas, Osaka offers a bar-hopping experience that blends culinary delights with electrifying entertainment. Get ready to explore Osaka's nightlife as we take you on a journey through its bar culture and the exciting experiences that await.
A Sensory Journey Through Osaka
Osaka is known as the 'Kitchen of Japan' for its exceptional food culture, and this reputation extends to its nightlife. The city embraces a gastronomic and entertainment-focused nightlife scene that showcases the best of Osaka's culinary delights alongside lively bars and clubs. From traditional izakayas to modern cocktail bars, Osaka's nightlife caters to all tastes, making it a paradise for bar-hopping enthusiasts.
Bar Hop Through Osaka
Bar hopping–or 'tachinomi' as it's known in Osaka–is a beloved pastime that allows you to explore the city's diverse bar scene one delicious sip at a time. As you wander the streets, you'll encounter endless bars and izakayas that offer a wide range of libations and mouthwatering dishes. Each stop unveils a unique atmosphere, distinct flavors, and the opportunity to interact with friendly locals.
Nomihodai in Osaka
Nomihodai (all-you-can-drink) is a unique concept specific to Japanese culture. While other countries may take similar suit, nowhere does it quite like Japan. For a set price, booze hounds and alcohol enthusiasts can enjoy unlimited drinks for a specified time, making it an attractive option for those seeking to sip on a wide range of flavors. Osaka has a thriving nomihodai scene that reflects the city's laidback and fun-time loving locals! Joining an all-you-can-drink tour in Osaka is a great way to engage with the city's nightlife, make new friends, and drink yourself silly–Osaka style!
Dotonbori
No exploration of Osaka's nightlife is complete without a visit to Dotonbori, the iconic entertainment district that captivates visitors with its neon lights, giant billboards, and cheerful atmosphere. Along the neon-lit canal, you'll find many bars and izakayas, each vying for attention with their enticing aromas and vibrant signs. Whether you indulge in street food delicacies or dive into a crowded bar, Dotonbori guarantees an unforgettable bar-hopping experience.
Osaka's Many Izakayas
Izakayas are at the heart of Osaka's nightlife, where locals and visitors gather to unwind, socialize, and enjoy good food and drinks. These casual, pub-like establishments offer an array of small, flavorful dishes to accompany your drinks, ranging from takoyaki (octopus balls) to kushikatsu (deep-fried skewers). Pull up a stool, order an ice-cold beer or a glass of sake, and immerse yourself in the convivial atmosphere that defines Osaka's izakaya culture.
Hidden Bars in Osaka
Osaka is home to an array of hidden bars and speakeasies that add an element of mystery and intrigue to the bar-hopping experience. Tucked away in narrow alleys or disguised behind unassuming entrances, these secret establishments offer a sense of exclusivity and adventure. Discover hidden whiskey bars, craft cocktail lounges, or retro-themed speakeasies, where expert mixologists concoct exquisite libations and engage you with their craft.
Osaka Street Food and Late Night Eats
Osaka's nightlife wouldn't be complete without indulging in its legendary street food offerings. As you hop from one bar to another, take a detour to Osaka's vibrant street food areas like Kuromon Ichiba Market or Shinsekai. Sink your teeth into crispy takoyaki, savory okonomiyaki, or mouthwatering yakitori, all freshly prepared before your eyes. These late-night delicacies fuel your bar-hopping journey and showcase the culinary excellence that Osaka is renowned for.
Osaka's nightlife offers a tantalizing fusion of gastronomy, entertainment, and warm hospitality. From izakayas buzzing with laughter and delicious aromas to hidden bars and vibrant live music venues, Osaka's bar-hopping scene invites you to savor the city's soul while creating unforgettable memories. So, prepare your appetite and sense of adventure, step into the vibrant streets of Osaka at night, and let the city's nightlife unfold before you, revealing a vibrant, delicious, and utterly captivating side of Osaka. Kanpai to unforgettable nights, strong drinks and new friends in Osaka!