Filters
Host Donations (high to low)
Newest First
Price (low to high)
Price (high to low)
Rating
Number of Reviews
Osaka Tea Ceremony, Tasting, & Culture Tour
Experience an Osaka-style Japanese tea ceremony alongside an expert! You'll participate in a tea ceremony, discover the surrounding customs and etiquette, then learn how to make matcha tea and enjoy sweet treats.
Tailor-Made Tours
Can't find what you're looking for? We can plan a custom-made food experience or itinerary just for you.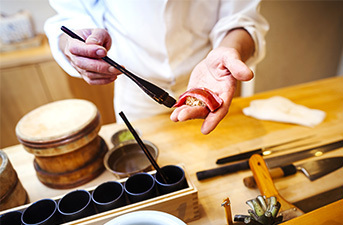 Osaka Tea Ceremony
Sitting alongside the art of calligraphy and flower arrangement, the humble Japanese tea ceremony or "the way of tea" is among one of the three most highly regarded artistic practices in Japan. Typically held in a traditional tea room with tatami mats and authentic Japanese decor, an Osaka tea ceremony offers a unique experience away from the hustle and bustle of Osaka's busy city streets. Take some time out and enjoy a moment of peace learning about the history of the Japanese tea ceremony in an intimate setting. Discover the ingredients and utensils used for making matcha green tea, as well as the intricacies and rituals of tea preparation. Learn how to make it for yourself, or sit back and enjoy the tranquil atmosphere, relaxing as you taste traditional wagashi sweets during a tea ceremony in Osaka. Immerse yourself in the cultural experience and traditional etiquette of an Osaka tea ceremony before jumping back into enjoying the richest Kansai street food or coolest bars and hidden izakayas.