Tailor-Made Tours
Can't find what you're looking for? We can plan a custom-made food experience or itinerary just for you.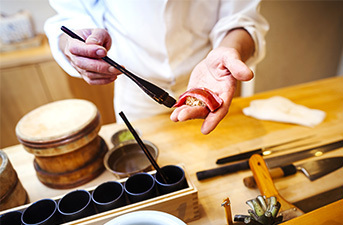 Up at the very northern reaches of Japan's main island sits Aomori Prefecture — a Mecca for outdoor adventurers and powder-chasing skiers. Although it's a long way from Tokyo, this vibrant corner of the country more than hold its own when it comes to gastronomy. Aomori has access to some of the best sea urchins, oysters, and abalone in Japan, and produces more than half the apples grown here.
Sure, it might be cold, but that only adds to the depth of their cuisine. Think rich stews and soups packed with diced vegetables, and oden stew enriched with miso and ginger. With byFood's range of the best restaurants in Aomori, you'll have access to the cream of the crop of what this northern region has to offer.
Whether you want some premium omakase sushi using the best shellfish you're ever likely to eat, or just some nice warm dishes to beat the cold after a long day of adventuring, browse these Aomori restaurants for unforgettable delicacies!