Tailor-Made Tours
Can't find what you're looking for? We can plan a custom-made food experience or itinerary just for you.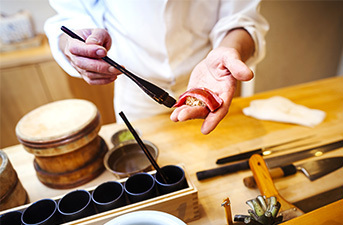 Soba noodles have been a staple of Japanese cuisine for centuries. These delicious buckwheat noodles feature in world-class Michelin-starred meals, everyday lunches, and everything in between. While you will find them featured in all sorts of inventive dishes, the best way to savor them is often the simplest.
Served with just a light dashi dipping broth and some grated radish, the flavors of the soba can really shine through. You'll find that the top soba artisans on our list of the best soba restaurants in Japan prefer these stripped back dishes to show off the pure quality of their handmade product.
But soba is nothing if not versatile! You can enjoy these noodles fried, mixed into okonomiyaki pancakes, or served cold in summer with generous helpings of yuzu citrus fruit on top. Whatever style you prefer, byFood's range of top soba restaurants will ensure you get the very best quality noodles.
Take a look through these soba restaurants in Japan, and when you're ready, secure your seat with just a few simple clicks! After you're hooked, why not try making some handmade soba noodles yourself?