Hana ita
A seafood restaurant in Sendai known for its excellent, fresh dishes, and great choice of local alcohol.
Tailor-Made Tours
Can't find what you're looking for? We can plan a custom-made food experience or itinerary just for you.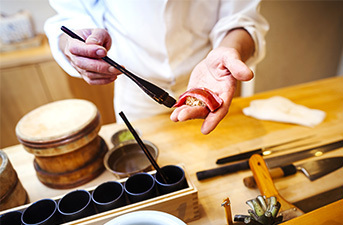 Seafood is basically the national religion of Japan, partly due to the huge popularity of Japanese sushi. However, its close cousin sashimi is arguably its most purist sect. Served as slices of raw fish, freshly cut just before serving, there's no better way to taste the authentic flavors of the ocean.
Freshness is key to any good sashimi meal, and there's nowhere with fresher seafood that Japan. Whether it's an izakaya gastropub, a tiny local eatery, or a high-class city center restaurant, the sashimi in Japan is more fresh and clean tasting than you probably ever thought possible. Think platters of deep-pink maguro tuna alongside perfectly-seasoned mackerel, plump shrimp, and melt-in-your-mouth salmon.
If you're looking to branch out from the usual seafood offerings, you might be surprised to learn that sashimi isn't just all about seafood. Beef and horse sashimi are also on the menu at many Japanese izakaya pubs for those who want to really push the envelope. So whether it's a culinary adventure you're after, or just some super-fresh renditions of the classics, reserving a spot at one of these top sashimi restaurants in Japan is the way to go.