Tailor-Made Tours
Can't find what you're looking for? We can plan a custom-made food experience or itinerary just for you.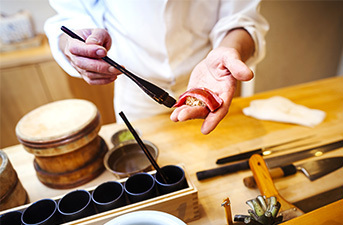 This deep-fried Japanese pork cutlet dish is one for lovers of big portions. Many places will let you choose the size of cutlet you want, before breading it in panko crumbs, frying it to perfection, then serving it with shredded cabbage, rice, and a special tonkatsu sauce.
Although it seems distinctly Japanese, tonkatsu actually belongs to a special category called yoshoku— essentially Western imports to Japanese cuisine.
In the century and a half since it came to Japan, the locals have remixed it into all sorts of delicious dishes! There's tonkatsu curry, katsudon pork and egg rice bowls, and Japanese pork cutlet sandwiches, to name a few. With byFood's range of the best tonkatsu restaurants in Japan, you'll get the chance to try all that and more. Just be sure not to underestimate how downright filling (and delicious) this classic dish is!