Tailor-Made Tours
Can't find what you're looking for? We can plan a custom-made food experience or itinerary just for you.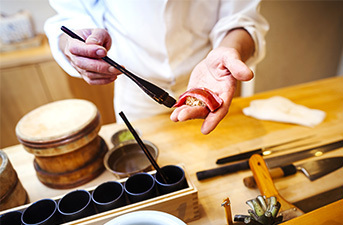 There's no better pairing for a tall glass of beer than a platter of juicy yakitori chicken skewers. Following a waste-not-want-not philosophy, very few parts of the chicken aren't utilized in this cuisine — you can try everything from the breast and wings to the liver and gizzard.
Having started as a popular Japanese street food, these snacks have now been a favorite of Japanese izakaya gastropubs for years, where you'll find the chefs hard at work beating at open charcoal grills with with their handheld fans, as the smoky smell of grilled meat fills the air. And although it's a pub food favorite, some restaurants have started taking the yakitori craft to new levels with high-grade, premium meat and inventive dishes.
Within byFood's range of yakitori restaurants in Japan, you'll discover this whole range of delicious chicken eateries. Reserve your spot to discover why this social dining style in a mainstay on the Japanese food scene for everyone from partying salarymen to gourmet connoisseurs.