Tailor-Made Tours
Can't find what you're looking for? We can plan a custom-made food experience or itinerary just for you.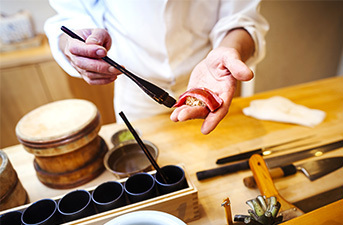 Japanese green tea has become something of a craze in recent years, especially the super-healthy powdered version: matcha. This delicious drink is packed full of antioxidants, so you'll now find it on the diet plans of the health-conscious from California to Canterbury. The Japanese, on the other hand, have been wise to its benefits for centuries. You'll find plenty of places in Japan to sip on some delicious, nutritious brews.
There's a whole culture of tea brewing, serving, and drinking to indulge in, wrapped in the heritage and history of the ancient Japanese tea ceremony. But on the more modern end of things, you'll also find this delicious powder infused into a whole cuisine of its own!
Japanese matcha restaurants find creative ways to work the bitter-sweet green powder into everything from cakes and desserts, to sausages and salads! The mild and refreshing flavors can bring a Japanese twist to basically any dish, which is why the country's most inventive chefs love it so much. Reserve a spot at one of these matcha restaurants in Japan to try the cuisine for yourself.