Tailor-Made Tours
Can't find what you're looking for? We can plan a custom-made food experience or itinerary just for you.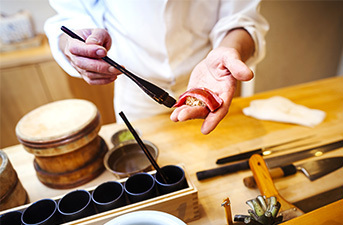 This Japanese beef bowl dish has its roots in the Meiji era, when the modernization of the country meant that it was no longer taboo to eat meat dishes (something discouraged by Buddhist culture for centuries). The dish was invented by a Tokyo restaurateur, who topped a bowl of rice with thin strips of beef and welsh onion, then drizzled it with a sweet soy sauce flavored with mirin and dashi.
Nowadays, it's one of the most popular Japanese comfort foods! If you're on the hunt for cheap eats in Japan, you could try it on a budget at any number of places, but independent specialist shops are best if you want a premium meal. These places use premium meat to elevate the everyday dish to another level. If you've feeling up to it, you can even upgrade your bowl to an extra large sumo-sized portion.
With byFood's restaurant reservation service, you'll be able to land a spot at the best gyudon restaurants in Japan with no hassle at all!