Onigiri Asakusa Yadoroku
Choose your filling and have your fresh rice ball molded right in front of you at the oldest onigiri specialist in Tokyo.
Tailor-Made Tours
Can't find what you're looking for? We can plan a custom-made food experience or itinerary just for you.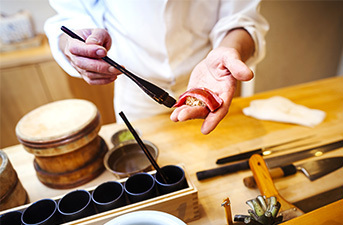 The French have baguettes, the Spanish have tortillas, and the Japanese have onigiri. These are the staple of lunchtimes which feature in the Japanese bento box meals of everyone, young and old. The premise is simple: it's a pressed rice cake, with a savory or sweet filling inside, wrapped in a nori seaweed casing.
Inside can be anything from pickled vegetables, to tuna mayo, to teriyaki chicken. In fact, there's a whole genre of onigiri restaurants in Japan which look to one-up these standard convenience store varieties, with made-to-order onigiri featuring ultra-fresh fillings. Think of them like the artisan delis of the onigiri world.
Our list of the best onigiri shops in Japan showcases the top places to get your fix of fresh rice cake goodness, whether it's for a sightseers lunch on the go or a sit-down set dinner. One bite and you'll understand why the students and workers of Japan have chosen onigiri as their fuel of choice for about 1200 years and counting!