Tailor-Made Tours
Can't find what you're looking for? We can plan a custom-made food experience or itinerary just for you.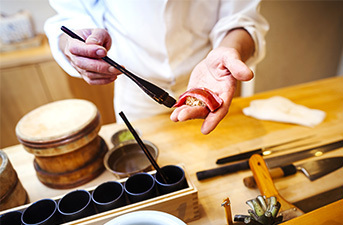 Fugu is one of the most Japanese of ingredients: the famously poisonous Japanese blowfish which requires a special license to cook. Don't let that put you off though, once the culinary masters take their knives to this potentially-deadly delicacy, it turns from a hazard into a pure savory delight. Especially if you're visiting the fugu heartlands of Osaka, you really shouldn't leave Japan without trying it.
A typical Japanese fugu meal will consist of around half a dozen styles or more: deep-fried, hot pot, grilled, jellied with noodles — it's a real feast. The highlight of it all is the fugu sashimi, which is usually served on a large platter with the thin, translucent pieces fanned out like the petals of a chrysanthemum.
If you're set on trying this delicious and versatile fish for yourself, then reserve your spot at one of these premium blowfish restaurants to get the very best quality. Knowing you're in the hands of a competent and licensed chef, you can relax and enjoy tucking into one of Japan's most iconic dishes at one of these fugu restaurants in Japan.