Seat Reservation
TOKYO
Curry Station Niagara
Travel back in time to the retro Japanese train station at Curry Station Niagara, while enjoying delicious curry rice and more.
Seat Reservation
TOKYO
DAWN | Avatar Robot Cafe ver.β
DAWN | Avatar Robot Cafe ver.β is a futuristic cafe that provides a culinary experience for a good cause
Seat Reservation
TOKYO
Tomato
The top curry shop in Tokyo, where a mix of 36 spices creates delicious bursts of Indian flavor.
Tailor-Made Tours
Can't find what you're looking for? We can plan a custom-made food experience or itinerary just for you.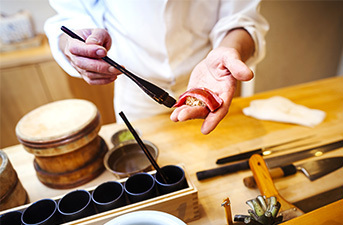 Like a lot of the iconic Japanese dishes, curry was an import from abroad. However, ever since the basic formula was brought over from India, the Japanese have adapted it to their own particular tastes. Their rich and spicy Japanese curry sauce has a flavor all its own, perfect when lathered over the top of a juicy katsu pork cutlet.
Even if you typically find other curries a bit too spicy, the curry restaurants in Japan will accommodate to your tastes, no matter how mild or extreme. You'll also find it mixed with some traditional Japanese favorites, to make dishes like curry udon, curry rice bowls, and even curry ramen!
Take a look at our select range of Japanese curry restaurants, where you can try all of these dishes and more. Once you're ready, you'll be able to secure a seat at your favorite with just a few simple clicks.