Tailor-Made Tours
Can't find what you're looking for? We can plan a custom-made food experience or itinerary just for you.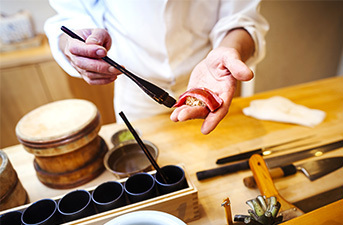 The Japanese usually describe okonomiyaki as a savory pancake, but that doesn't quite do it justice. This umami-packed treat is one of the key traditional Japanese foods, made by mixing up chopped cabbage, pork, and batter on a griddle pan, then topping it with dried seaweed, bonito flakes, mayo, and a slightly sweet special sauce.
Hailing from Hiroshima or Osaka, depending who you ask, the name of the dish itself roughly translates to "as-you-like-it pancake," so customization is key! The best okonomiyaki restaurants in Japan have a huge range of options featuring all kinds of meats, noodles, and seafood — with vegetarian options usually available too. Whichever you choose, you'll get to enjoy the tantalizing theatre of seeing it cooked up right in front of you.
Our list of okonomiyaki restaurants around Japan represents some of the greatest places to try this distinctly Japanese dish. So pull up a seat at the counter, feel the warmth off the grill on your face, and prepare to try your new favorite dish.