Filters
Host Donations (high to low)
Newest First
Price (low to high)
Price (high to low)
Rating
Number of Reviews
Tailor-Made Tours
Can't find what you're looking for? We can plan a custom-made food experience or itinerary just for you.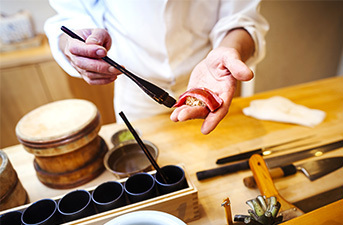 Frequently Asked Questions
What Food Is Nagoya Famous For?
Nagoya is most famous for hatcho miso – a dark and rich miso made entirely from soybeans. You'll find this Nagoya specialty featured in a variety of regional dishes like miso katsu, miso nikomi udon, and doteyaki.
What Are the Best Foods in Nagoya?
Nagoya has a variety of tasty regional dishes! Some famous Nagoya foods include: Miso katsu: Breaded, deep-fried pork cutlet coasted in a thick hatcho miso sauce | Hitsumabushi: Grilled eel slathered in a thickened, sweet soy sauce | Kishimen: A thick noodle dish with soy sauce and sake broth | Miso nikomi udon: Udon noodles simmered in hatcho miso | Doteyaki: Beef tendon stewed in hatcho miso | Tebasaki: Twice-fried chicken wings coated in sauce, salt and pepper, and sesame seeds | Ten-musu: Triangle-shaped rice ball with a tempura shrimp in the middleen-musu: Triangle-shaped rice ball with a tempura shrimp in the middle
Where Can I Eat in Nagoya?
Nagoya has several food, shopping, and entertainment hubs. Osu Shopping Street, Sakae Shopping District, and Kinshachi Yokocho are Nagoya's main foodie areas.
Does Nagoya Have Good Nightlife?
Yes! The Sakae district in downtown Nagoya is the main nightlife district. Lined with bars, restaurants, music venues, and more, this area is a major player in the city's buzzing nightlife scene.
Nagoya Food Experiences
Attention, foodies! We're about to embark on a gastronomic adventure through the vibrant streets of Nagoya. Prepare to have your taste buds tantalized, your senses awakened, and your appetite ignited. Nagoya isn't just a city; it's a culinary wonderland. And what better way to navigate this delectable landscape than with the help of our Nagoya food tours? So fasten your seatbelts, tighten your aprons, and let's dive headfirst into the melting pot of flavors that is Nagoya!
Nagoya food experiences are the Holy Grail for passionate foodies seeking to uncover the hidden gems and gastronomic treasures of the city. Led by knowledgeable guides who are as passionate about food as you are, these tours whisk you away on a journey of flavors, stories, and culinary discoveries. Whether you're a sushi connoisseur, a ramen enthusiast, or an adventurous eater, there's a Nagoya food tour designed to cater to your cravings.
Best Food in Nagoya
For sushi lovers, Nagoya offers a mouthwatering array of options. Join a sushi-focused food experience and delve into the world of perfectly seasoned rice, fresh seafood, and delicate flavors that will transport you to the shores of the Tsushima Strait. From traditional nigiri to innovative sushi creations, Nagoya's sushi scene is a testament to the city's commitment to culinary excellence.
Next in the spotlight is the humble bowl of ramen—a steaming bowl of noodles that has captured the hearts of savory food enthusiasts worldwide. Nagoya boasts its unique style of ramen, known as Nagoya-style Taiwan ramen. What sets it apart? It's all about the rich, flavorful broth made with a secret blend of spices and local ingredients. With a Nagoya ramen food experience, you'll have the opportunity to slurp your way through a variety of ramen joints, each with its own twist on this beloved dish.
Nagoya Street Food
One of the best things about Nagoya food experiences is the chance to uncover hidden culinary hideaways that you might otherwise miss. These tucked-away gems are the stuff of legends, usually only known to the locals. From cozy izakayas serving up mouthwatering yakitori to hole-in-the-wall joints dishing out savory kushikatsu, prepare to be amazed by the sheer variety and quality of the city's hidden culinary treasures.
What about dessert? We hear you! Nagoya has a bounty of sweet delights waiting for you. Sink your teeth into the rich, velvety goodness of Nagoya cochin soft cream—a tasty treat made from the eggs of locally raised chickens. Or indulge in a slice of Nagoya-style strawberry shortcake, where fluffy sponge cake meets luscious cream and juicy strawberries.
Nagoya isn't just a city; it's a culinary playground that beckons food enthusiasts from far and wide. So, come hungry, don your stretchy pants, and unleash your inner foodie as you embark on an unforgettable journey through Nagoya's food landscape.