In 2016, Tokyo recorded 29,376 bars in its census. Since then, the bar scene has grown with no end in sight. Whether you fancy a classy rooftop cocktail or a custom drink at a themed bar, Tokyo has a watering hole to suit every taste.
Filters
Host Donations (high to low)
Newest First
Price (low to high)
Price (high to low)
Rating
Number of Reviews
Tailor-Made Tours
Can't find what you're looking for? We can plan a custom-made food experience or itinerary just for you.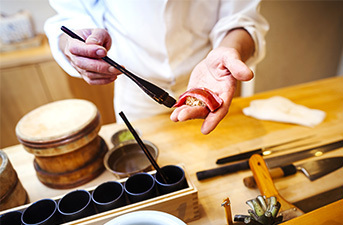 Tokyo Nightlife
Tokyo: A city that comes alive after dark with a vibrant and eclectic nightlife scene. From sleek cocktail bars to quirky-themed establishments, Tokyo offers a bar-hopping experience for everyone. Get ready to immerse yourself in the energy, excitement, and intriguing concoctions that make Tokyo's nightlife an unforgettable adventure. A city with such a large bounty of bars and watering holes can be tricky to navigate–where to begin? Well, a Tokyo bar-hopping tour…
Tokyo is renowned for its diverse and dynamic nightlife scene, catering to all tastes and preferences. Whether you're seeking a sophisticated cocktail lounge, a lively izakaya (Japanese-style pub), or a trendy club pulsating with music, Tokyo has it all. The city's distinct neighborhoods each have their own nightlife vibe, offering endless options for an unforgettable night out. Nightlife in Tokyo is everywhere, you have to keep your eyes peeled! Tucked away in alleyways, residential neighborhoods streets, commanding attention with bold signs on busy main roads, and beyond.
Tokyo Izakaya Bar Hopping
Bar hopping–or izakaya hopping as it's known in Tokyo–is a popular pastime that allows you to explore the city's bar scene by moving from one establishment to another. This thrilling adventure takes you through narrow alleyways and hidden corners, where you'll discover hidden gems tucked away from the bustling streets. Each bar has a unique ambiance, signature drinks, and stories to tell, making every stop a new experience.
Shinjuku Golden Gai
One of Tokyo's most iconic bar-hopping destinations is Golden Gai, a labyrinthine alley in Shinjuku. With its narrow streets lined with tiny bars, Golden Gai exudes an old-world charm that transports visitors to a bygone era. Each bar in this enclave has its own character and theme, ranging from jazz bars to rock 'n' roll havens. It's where you can rub shoulders with locals, sip on expertly crafted cocktails, and revel in the intimate atmosphere. This is where you'll find the best nightlife in Tokyo. A Tokyo bar-hopping night tour in Shinjuku is the perfect way to see the city uncensored.
Tokyo's Themed Bars
Tokyo is renowned for its quirky and imaginative themed bars, where the concept and ambiance take center stage. Step into the world of fantasy at an Alice in Wonderland-themed bar, sip cocktails in a ninja hideaway, or transport yourself to a retro video game arcade bar. These themed establishments offer a unique and immersive experience, where you can let your imagination run wild while enjoying delicious libations.
Tokyo Cocktail Bars
Tokyo's mixology scene has gained international acclaim, with bartenders pushing the boundaries of creativity and craftsmanship. Cocktail bars like Bar High Five, Gen Yamamoto, and Bar BenFiddich have become destinations for cocktail enthusiasts seeking innovative and meticulously crafted drinks. Tokyo's mixologists are known for their attention to detail, using rare ingredients, house-made infusions, and artistic presentation to create liquid masterpieces.
Tokyo Street Food and Late Night Eats
No bar-hopping experience in Tokyo would be complete without indulging in late-night eats. Izakayas serve mouth-watering dishes like yakitori (grilled skewers), gyoza (dumplings), and sashimi. For a truly unique experience, visit a yokocho, or drinking alley, where you can sample street food favorites in a lively atmosphere.
Tokyo's nightlife is a vibrant tapestry of bars, clubs, and unique experiences that cater to every reveler's taste. From intimate cocktail lounges to themed bars and pulsating dance floors, Tokyo's nightlife offers endless possibilities for exploration and enjoyment. So, grab your friends, navigate the neon-lit streets, and dive into the eclectic world of Tokyo after dark, where the night is young, and unforgettable memories are waiting to be made.