Tailor-Made Tours
Can't find what you're looking for? We can plan a custom-made food experience or itinerary just for you.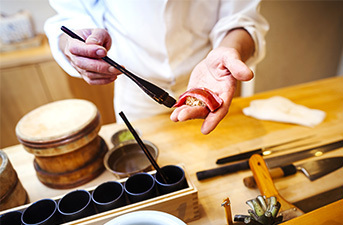 A land of mountains, onsen hot springs, and ancient temples in central Japan — Yamagata Prefecture is a snow-blanketed wonderland, not least of all for foodies seeking fix of regional Japanese food. Fruit lovers can feast on cherries and watermelons, while carnivores can indulge in some premium Yonezawa beef in delicious stews and hot pots.
The weather can get pretty cold up here at times, and the local cuisine reflects that fact. Take the regional Yamagata delicacy imoni stew, for example: a slow-cooked mix of tender beef and root vegetables simmered in a soy sauce broth. Fans of Japanese comfort foods will find a lot to love here!
In fact, no matter what you're looking for, the cities and towns of Yamagata can offer it — authentic Japanese dining, modern European-style restaurants, small-time family noodle shops. With byFood's collection of Yamagata restaurants, you'll be able to reserve a table at your ideal Yamagata eatery in no time!