Seat Reservation
FUKUI
Cafe Earth
Become one with the earth, witnessing its beauty while eating some of the freshest and most organic food it has to offer.
Seat Reservation
FUKUI
Fukamidori
Vegan cafe specializing in smoothies and a variety of vegan options, offering a smooth experience for plant-based visitors in Fukui. Seat Reservation
FUKUI
Kawaki
Here, you'll dine on the finest crab in the country alongside Japan's elite.
Tailor-Made Tours
Can't find what you're looking for? We can plan a custom-made food experience or itinerary just for you.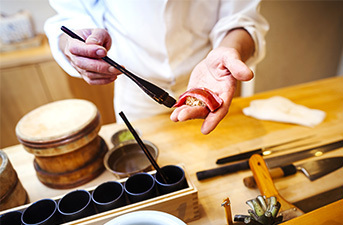 To the Japanese, Fukui Prefecture is synonymous with great seafood. Its dramatic coastline, which runs along the northwestern side of central Japan, yields some of the best Japanese shellfish — especially snow crabs and prawns — you're ever likely to find. It's also one of the best places in the world to try traditional Japanese dishes like soba noodles, especially the local echizen oroshi variety.
If that's piqued your interest, then take a look at our range of the best restaurants in Fukui to see what the prefecture has to offer. Those looking for a premium dining experience can sample the rare Japanese golden snow crabs, or some Michelin-starred sushi with unique local twists. If you'd prefer a more down-to-earth experience, you'll find plenty of friendly local chefs ready to welcome you into their laidback eateries for a nice casual meal.
This ruggedly beautiful corner of Japan has plenty to offer, from mountains, fields, and sea to suit any budget. Once you've chosen from these Fukui restaurants, reserving your table couldn't be easier — you'll be all set with just a few simple clicks!