Tailor-Made Tours
Can't find what you're looking for? We can plan a custom-made food experience or itinerary just for you.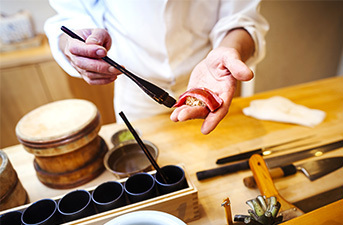 Frequently Asked Questions
How to reserve restaurants in Hiroshima?
Generally, you can call restaurants in Hiroshima directly to make a restaurant reservation. However, many people find that this can be a difficult task due to the language barrier. Instead, another way to make a reservation at a restaurant in Hiroshima is to use an online platform. There are many available that assist foreigners in making reservations at local Hiroshima restaurants. Reserving through the byFood platform means that you can filter Hiroshima restaurants by cuisine, areas, and different experiences. Their search functions make it easy to reserve. Simply choose your desired restaurant and add in your details to the reservation page. The byFood platform will reserve on your behalf and send you a confirmation email if the reservation is successful. If it was not successful, you will be notified by email.
Is a reservation required for restaurants in Hiroshima?
Not all restaurants in Hiroshima require a reservation, however this depends on the restaurant. If it is a high-end restaurant, it will usually require a booking, but if it is a casual restaurant or izakaya, a reservation is usually unnecessary. You cannot book at all restaurants, like some izakayas and ramen restaurants.
What is the average cost of a meal at restaurants in Hiroshima?
Cheap meals at restaurants in Hiroshima usually cost somewhere between 800 and 1200 yen at lunchtime, however you can expect to pay around 4000 yen or 5000 yen for a meal for two people at a mid-range restaurant. Upscale meals in Hiroshima generally start from 5000 yen, and cost more at dinnertime.
Best Restaurants in Hiroshima
No longer the sleepy city of its past, Hiroshima City and its prefectural region have flourished in the last few decades. Paving the way for positivity, just look at Hiroshima's thriving food scene. Wonderful restaurants big and small line the main street of Hondori, and downtown Hiroshima comes alive with restaurants and izakaya pubs serving up plates full of quality Japanese food until late. Of course, clustered in the iconic institution of Okonomiyaki-mura (aka the village of savory pancakes) you will find 30 odd Hiroshima-yaki restaurants grilling in a frenzy.
Restaurants in Hiroshima also serve up some of the country's best and biggest oysters, grilled, deep-fried, or fresh! Hidden down side streets, family-run restaurants serve up local Onomichi-style ramen while "kissatens" and cafes sell quality coffee and scrumptious sweet snacks. Across the bay, street food vendors feed snacks to visitors on Miyajima Island all day long. Those who are lucky enough to stay the night can enjoy a luxury kaiseki dining experience at a traditional ryokan hotel.
There are so many delicious local Hiroshima foods from the southern region of Japan. They are just waiting to be discovered at one of Hiroshima's many incredible restaurants! Make a reservation before your trip to enjoy an authentic dining experience in Hiroshima at one of the city's unique eateries. Want to explore more of the city instead? Step off the main street with a local guide and discover the best regional food by booking a Hiroshima food tour.