Filters
Host Donations (high to low)
Newest First
Price (low to high)
Price (high to low)
Rating
Number of Reviews
Tailor-Made Tours
Can't find what you're looking for? We can plan a custom-made food experience or itinerary just for you.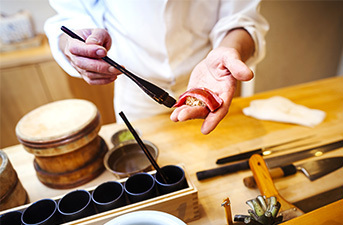 Find The Best Halal Cooking Classes in Kyoto
Colored by the seasons and delicately textured, Kyoto's cuisine is exquisite and delicious. If you're visiting Kyoto, why not try and learn how to make some for yourself? However, if you only eat halal food, never fear! You don't have to miss out. Kyoto has plenty of halal cooking class options for those who follow halal dietary restrictions but want to try their hand making local Japanese food. Kyoto is known for its quality Kyo Ryo or Kyoto cuisine, and even those who only eat halal foods can have a go with our halal cooking classes in Kyoto!
From exquisite local dishes in a bento box to delicate wagashi candies, you can learn new skills while immersing yourself in the culture of Kyoto as you cook your own tasty halal treats. With the help of an experienced instructor using inclusive ingredient alternatives, you can enjoy the lesson as you pick up handy tips and trips for cooking halal Japanese food. Making halal Japanese food has never been so fun and easy! Discover the best Japanese food using Muslim-friendly menus by joining one of our halal cooking classes in Kyoto.