Filters
Host Donations (high to low)
Newest First
Price (low to high)
Price (high to low)
Rating
Number of Reviews
Online Hiroshima Style Okonomiyaki Cooking Class
Experience Hiroshima food culture from the comfort of your own home during this virtual okonomiyaki cooking class! Learn the traditional recipe and cooking techniques of this iconic Japanese dish, and bring a taste of Hiroshima into your home.
(1)
Online Cooking Class: Cute Character Bento Making Class
Think outside the (bento) box during this fun online cooking class! Using easy-to-find ingredients, you'll make an adorable themed bento featuring cartoon characters. These packed lunch boxes are as cute as they are delicious.
Chirashi Sushi Cooking Class in Tokyo (Setagaya)
Join Aoki-san for a Japanese cooking class in Setagaya (Tokyo). Make chirashi (scattered) sushi & various side dishes, from preparing the ingredients to assembling the final dish. End by enjoying your handmade meal.
Tailor-Made Tours
Can't find what you're looking for? We can plan a custom-made food experience or itinerary just for you.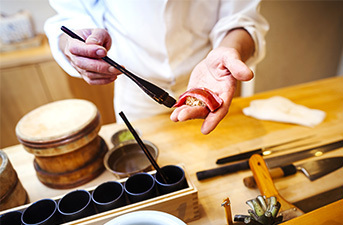 If you're looking for an interactive, hands-on online food experience that you can enjoy from your own home, byFood offers a variety of online cooking classes for everyone. From online vegan cooking classes like the wagashi making class, to the Hiroshima okonomiyaki cooking class that teaches how to make the local style of Japanese savory pancake, to the cute character bento class that's perfect for families, here you can find some of the best online cooking classes in Japan.
A virtual cooking class offers the opportunity to learn how to make Japanese food from your own home, and connect with family, friends, and strangers across the world through a fun activity. There are online cooking classes for beginner cooks and families with small children, as well as those with various dietary restrictions. Our lineup of available experiences includes online vegetarian cooking classes for those who prefer to eat plant-based, and workshops on how to make regional styles of the customizable savory pancake, okonomiyaki. Join live cooking classes right here on byFood and learn how to cook classic Japanese recipes that are sure to become staples in your cooking repertoire!