Filters
Host Donations (high to low)
Newest First
Price (low to high)
Price (high to low)
Rating
Number of Reviews
Tailor-Made Tours
Can't find what you're looking for? We can plan a custom-made food experience or itinerary just for you.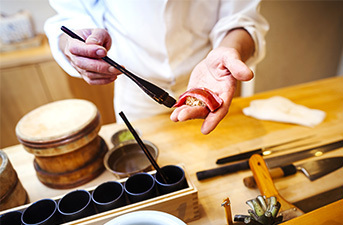 Halal Food Tours in Tokyo
Finally landed in Tokyo and now you're ready to explore? For our halal friends out there, you can easily explore the best corners of Tokyo with a delicious halal itinerary packed with Japanese food! The scope of halal food in Tokyo has been growing continually as more visitors from around the world come to Japan. This means that making accommodations for different dietary restrictions is rapidly growing too. So if you only eat halal food, you have come to the right place! You can discover the best neighborhoods of Tokyo for food by joining one of our halal food tours in Tokyo. Inclusive and delicious, you can explore the best restaurants and foodie stops along with significant attractions without having to worry whether or not the food is halal.
Our halal food tours in Tokyo offer the opportunity to learn about Japanse culture from a local guide, exploring Tokyo's coolest neighborhoods as you munch away on delicious halal food options. Many of our regular food tours offer halal food alternatives too, so you can keep your options open for exploring the best of Tokyo! Check out our delicious Tokyo halal food tours and get a hit of culture conveniently matched with inclusive halal menu options including halal sushi and wagyu beef.