Tailor-Made Tours
Can't find what you're looking for? We can plan a custom-made food experience or itinerary just for you.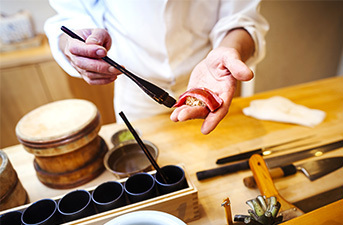 Famous for its dramatic sand dunes and local folk festivals, Tottori Prefecture lies on the north coast of southern Honshu. Although it's the least populated of all the prefectures, it packs a punch when it comes to history, outdoor adventure, and food.
With fantastic seafood brought in from the Sea of Japan to the ports along the coast, the locals make Tottori delicacies like tofu chikuwa — a fishcake made from tofu and whitebait — and delicious baked snow crab. The locals also have their very own unique spins on ramen, yakisoba, katsu curry, and just about every favorite Japanese dish you can name!
With byFood's range of >Tottori restaurants, you have access to the top places to experience this delicious regional cuisine. After spending your day exploring historic villages, onsen hot spring resorts, and dramatic mountain scenery, pull up a chair and discover the food culture of Tottori Prefecture.