Tailor-Made Tours
Can't find what you're looking for? We can plan a custom-made food experience or itinerary just for you.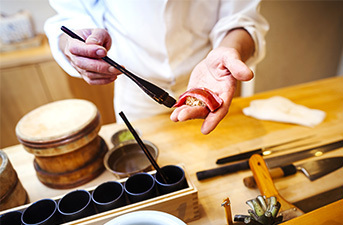 Japan's island paradise is a culinary world of its own, with delicious regional specialties like goya bitter melon, sea grapes, and generous helpings of braised pork. This unique regional Japanese cuisine was developed over the centuries when the islands of Okinawa belonged to the Ryukyu Kingdom, far from the mainland in both geography and culture. This means that, even if you think yourself an expert on traditional Japanese dining, you've still got a whole new category to discover!
Nowadays Okinawan food draws upon this long culinary heritage while merging it with more modern influences. American naval bases have given rise to signature Okinawan hamburgers, while influences from nearby Taiwan have brought a dash of Mandarin spice to the mix. You'll even find a big vegan cuisine culture in Okinawa too! On top of that, each individual isle has its very own specialties — a sub-tropical selection box with hundreds of treats inside!
On this list of the best Okinawa restaurants, we've collected some of the top places to get to grips with this exotic spin on Japanese food. Reserving your seat on byFood takes just a few clicks, meaning you could be halfway to paradise before you've even left your computer!