Seat Reservation
TOKYO
Tofu Cuisine Sorano Shibuya
Delicious multi-course tofu dining in Shibuya, at a modern restaurant that's famous among local gourmets — you've never tried tofu this good.
Seat Reservation
TOKYO
Tokyo Shiba Toufuya Ukai
A contender for most picturesque restaurant in Japan — this historic compound house plays host to the finest tofu-based dining.
(1)
Seat Reservation
TOKYO
Tofu no Futaba
A tofu shop with over a century of history, with a restaurant attached serving up their delicious product in great-value set meals.
Tailor-Made Tours
Can't find what you're looking for? We can plan a custom-made food experience or itinerary just for you.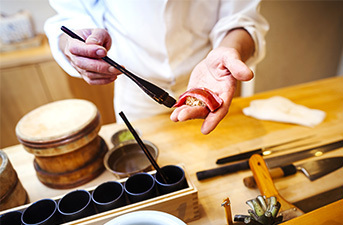 Frequently Asked Questions
How to reserve tofu restaurants in Tokyo?
Most tofu restaurants in Tokyo will allow you to book by calling the restaurant directly via phone. In some cases, if you are not confident in your Japanese abilities, this can prove difficult. Thankfully, you can also secure a table at tofu restaurants in Tokyo by using an online service that helps foreigners to reserve restaurants. ByFood is one of the online platforms that can help foreigners to book seats at different types of restaurants. Using different filters, you can select a tofu restaurant in Tokyo based on area, budget, and dietary requirements. Simply enter your reservation details into the tofu restaurant page, and byFood will submit your reservation request for you. Just wait for the confirmation email to come to your inbox if it is successful. In the event your reservation is not successful, a failed email will be sent to you.
Is a reservation required for tofu restaurants in Tokyo?
Tofu restaurants in Tokyo generally do not need a reservation ahead of time, but in the case of fine dining or popular tofu restaurants, a reservation may be required. This is dependent on the restaurant, but if you are worried, a reservation is always a good idea.
What is the average cost of a meal at tofu restaurants in Tokyo?
The average cost of a tofu meal at a restaurant in Tokyo is 1000 yen at a cheaper restaurant. Expect to pay between 2500 yen and 4000 yen at mid-to-upper range restaurants, or 5000 yen or more for upscale specialty tofu restaurants.
Tofu Restaurants in Tokyo
Not only suitable for vegans or vegetarians, tofu restaurants in Tokyo can cater to everyone. Whether it be upscale tofu kaiseki cuisine in Shinjuku, or a tofu teishoku (lunch set) somewhere in the bowels of busy Shibuya, tofu restaurants in Tokyo specialize in this typical Japanese food. The humble soybean curd is becoming increasingly better known in Western countries, however in Japan it is a dietary staple. You can find tofu in all kinds of dishes across Japan, where many restaurants in Tokyo specialize in tofu.
Leave it up to the amazing range of tofu restaurants in Tokyo to showcase some of the best tofu cuisine in the country. Enjoying a dining experience at a specialty tofu restaurant in Tokyo gives you the opportunity to try the soybean ingredient in many different forms. Soft and silky or firm in texture, it is diverse and adaptable in many different Japanese cooking styles. If you were not a tofu lover to begin with, delving into tofu cuisine at vegan and vegetarian friendly restaurants in Tokyo will certainly change your view of this soybean product. Tofu is packed full of protein making it a great meat substitute, not only for vegans and vegetarians. Eaten with udon, Japanese curry, or as a part of a typical set meal, it is a versatile ingredient that is essential to the Japanese diet. It can take on all kinds of sweet and savory flavors, too.
Not convinced? Tofu can be divisive. To help you make up your mind, you can try tofu cooked many different ways by reserving your seat at a Tokyo tofu restaurant before you go. Eat tofu your favorite way or in a new cuisine style you may never have heard of! Deep-fried as "agedashi dofu," or floating delicately in miso soup, you can discover the different ways to enjoy tofu in Japan. Always beautifully presented, you will see tofu in a different light at a Tokyo tofu restaurant!