Tailor-Made Tours
Can't find what you're looking for? We can plan a custom-made food experience or itinerary just for you.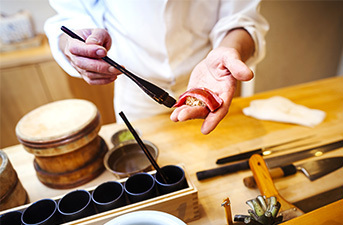 Frequently Asked Questions
How to reserve vegan restaurants in Tokyo?
Most vegan restaurants in Tokyo will allow you to reserve by giving them a call beforehand. However, due to some limitations of language barriers, this can be difficult, depending on the restaurant. Alternatively, you could always reserve a Tokyo vegan restaurant by using a service that helps foreigners to make reservations online. A great option we suggest is reserving on byFood. Our platform allows customers to filter restaurants by meal type or dietary restriction, such as vegan restaurants. Easily find available vegan restaurants and choose one you want to reserve on the platform. All you have to do is enter your reservation details. Once entered, the reservation will be made on your behalf through byFood and a confirmation email will be sent to you. However, in the event that the reservation was unsuccessful, you will receive a failed reservation email to notify you.
Is a reservation required for vegan restaurants in Tokyo?
Many vegan restaurants in Tokyo do not require a reservation, however some higher-end vegan restaurants do. This depends on the restaurant itself.
What is the average cost of a meal at vegan restaurants in Tokyo?
There are plenty of cheap vegan restaurants in Tokyo offering a standard vegan meal for under 1000 yen, though it depends on the restaurant. 1500 yen is the average cost of a meal. You can expect to pay somewhere around 3000 yen for a more upscale vegan meal, or more if you are going for high-class dining.
Vegan Restaurants in Tokyo
There are plenty of vegan restaurant options available in Japan's capital, where many Japanese food meals are inherently plant-based, like seaweed dishes and traditional wagashi sweets. Vegan restaurants in Tokyo hold a variety of delicious culinary surprises which are made up of meat-free menus made entirely without animal products. You can enjoy vegan ramen and gyoza at tiny restaurants in the big city's backstreets, or a vegan kaiseki dining experience feast created and served in a traditional Japanese restaurant. Maybe you are after a meal using fresh plant-based ingredients to cleanse from all of the delicious yakitori chicken sticks and morish gyudon beef bowls you have been eating while exploring on the go? Whether it be at a high-class izakaya or a local vegan cafe, Tokyo vegan restaurants guarantee delicious plant-based menus with unique vegan dining experiences.
Plant-based travelers visiting Japan might feel concerned about the availability of vegan food options in Japan if they don't speak the language or can't read Japanese menus. If you are worried about what you can and can't eat in Japan due to your plant-based lifestyle, don't stress. You can enjoy some of the best vegan food in Tokyo without worrying about what's on the menu by reserving your seat ahead of time at a vegan and vegetarian restaurant in Tokyo. Many typical Japanese food dishes can hide a lot of hidden fishy ingredients or meat elements, however that does not always have to be the case. Tokyo vegan restaurants specialize in menus that cater to plant-based dietary requirements, and they're cruelty free and sustainable!
Enjoy a delicious plant-based feast, tasting crispy vegetable tempura, salty miso-based ramen, and sumptuous silken tofu at a tofu restaurant in Tokyo. You might be surprised at the rich umami flavors that can be extracted from plant-based ingredients like shiitake mushrooms and kombu (kelp). Discover the delicious vegan Japanese cuisine that's available in the thriving city and reserve your table at a Tokyo vegan restaurant before you go.