Tailor-Made Tours
Can't find what you're looking for? We can plan a custom-made food experience or itinerary just for you.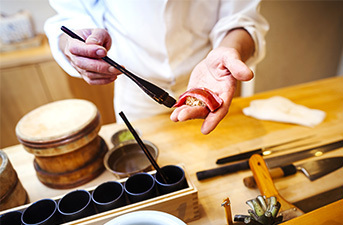 Frequently Asked Questions
How to reserve vegetarian restaurants in Tokyo?
Directly calling vegetarian restaurants in Tokyo is one of the main ways to make an advance reservation. However, this can sometimes be difficult due to limitations caused by language barriers. To avoid confusion, you can reserve a vegetarian restaurant in Tokyo using an online platform. There are many that help foreigners to reserve restaurants in Tokyo and greater Japan. One of them is byFood. By using the byFood platform, you can filter restaurants depending on the meal type and your diners' dietary requirements, displaying restaurants such as those which have vegetarian options. To reserve seats at a restaurant, simply enter your details into that restaurant page. ByFood will make a reservation on your behalf and send a confirmation email through to you if the reservation is accepted. If it is not accepted, you will then receive a failed reservation email.
Is a reservation required for vegetarian restaurants in Tokyo?
Not all vegetarian restaurants in Tokyo require a booking, although it depends on the restaurant. If it is a casual vegetarian restaurant, most of the time you do not need to reserve a table unless it is a very popular restaurant. If it is a fine dining vegetarian restaurant, it is a good idea to reserve ahead of time.
What is the average cost of a meal at vegetarian restaurants in Tokyo?
Many vegetarian restaurants in Tokyo can cost less than 1000 yen per meal, however it depends on the restaurant. An average vegetarian meal costs around 2000 yen for dinner, however if you were eating at a more premium restaurant, it could be over 4000 yen.
Vegetarian Restaurants in Tokyo
The amazing quality of Japanese food at vegetarian restaurants in Tokyo is not surprising considering the size of the city and its diverse culinary scene. Meat-free meals in this mega metropolis are increasingly easy to come by at both regular and specialty vegetarian restaurants in Tokyo. You can book one of the best vegetarian dining experiences in Tokyo on byFood for an unforgettable vegetarian meal on your next trip to Tokyo. You can even visit a few different vegetarian restaurants in Tokyo as you feast on sweet treats in Harajuku, or learn about traditional wagashi (that just happen to be vegan) during a vegetarian food tour. These sweets traditionally do not use animal products!
Tokyo vegetarian restaurants are scattered throughout the city, boasting food that's so packed with umami flavor that meat-eaters might never know that they don't contain meat! You will be surprised at how flavorsome vegetarian Japanese food can be, where a lot of the Japanese diet still relies on vegetarian-friendly ingredients like rice, seaweed, and vegetables. In fact, meat consumption has only risen since 1872, as before the Meiji Restoration, eating meat in Japan was banned in conjunction with the arrival of Buddhism.
Since modern times, Japanese diets have welcomed the consumption of meat, which was no longer taboo. But now, there are plenty of delicious vegetarian options readily available as well as vegan restaurants in Tokyo offering plant-based options as well. Delicious vegetarian Japanese food can be best enjoyed at one of Tokyo's diverse vegetarian restaurants, throughout pockets of the glittering city.