Tailor-Made Tours
Can't find what you're looking for? We can plan a custom-made food experience or itinerary just for you.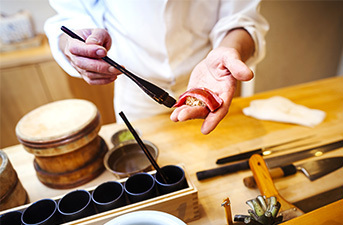 Kumamoto Prefecture is a volcanic region on the west side of Kyushu Island, known for its dramatic hiking, active volcano craters, and fantastic onsen hot spring resorts. Fans of alcohol will know Kumamoto for a very different reason: it produces some of the very best Japanese shochu around. Just don't underestimate the strength of this beloved Japanese drink!
As for its other culinary credentials, Kumamoto historically enjoyed a lot more foreign influence than most of the rest of Japan, so you'll find plenty of delicious pork dishes (a meat not commonly eaten in Japan for centuries) and even horse meat sashimi — said to have been introduced to Japan by the lord of Kumamoto centuries ago!
Our collection of Kumamoto restaurants will allow you to try all this and more — the most authentic bowl of tonkotsu ramen you'll every try, unique local gourmet sushi treats, or anything else that takes your fancy.