Filters
Host Donations (high to low)
Newest First
Price (low to high)
Price (high to low)
Rating
Number of Reviews
Kyoto Decorative Sushi Cooking Class
Learn how to make creative decorative sushi rolls called "kazarimaki" at your cooking teacher's traditional Japanese-style home in Kyoto. Using plant-based ingredients, these colorful sushi rolls are vegetarian and vegan-friendly.
Authentic Japanese Sushi Cooking Class in Kyoto
In historic Kyoto, renowned for its picturesque temples and shrines, learn how to make two types of sushi (sushi rolls and round temari-zushi) and the soup stock dashi, which forms the foundation of many Japanese dishes.
Tailor-Made Tours
Can't find what you're looking for? We can plan a custom-made food experience or itinerary just for you.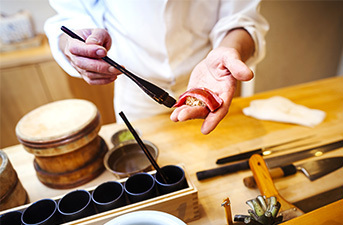 Sushi Cooking Classes in Kyoto
Bordered by the Sea of Japan and Lake Biwa, Kyoto Prefecture boasts abundant fish and seafood which you can find at the Japanese food paradise of Nishiki Market, a popular shopping street that began as a fish market about 400 years ago. With such fresh and delicious fish readily available, Kyoto is one of the best places to take part in a sushi-making class in Japan. Learn all about the delicate art of sushi from experienced cooking instructors or professional chefs during these sushi cooking classes in Kyoto. Make gorgeous decorative sushi rolls with hidden designs that are revealed in the center, or classic nigiri sushi which are minimalist yet sophisticated with subtle flavor and texture. You can even learn how to make sushi that is specific to the region. "Aaba-zushi" or mackerel sushi is a Kyoto City specialty. Historically, this salted, preserved sushi was made to withstand the long journey from the Sea of Japan to the ancient capital of Kyoto. Join a hands-on sushi cooking class in Kyoto and dive into the local delicacies of Kyoto, learning about the local history and food culture of Japan's stunning "City of Ten Thousand Shrines."