Filters
Host Donations (high to low)
Newest First
Price (low to high)
Price (high to low)
Rating
Number of Reviews
From Leaf to Brew: Hands-on Japanese Tea Tour in Shizuoka
Welcome to Shizuoka, the largest producer of green tea in Japan. At the Osada Tea headquarters, you'll tour the factory, sample premium Japanese teas, make your own original tea blend, and craft wagashi sweets to enjoy with a cup of frothy matcha.
Tailor-Made Tours
Can't find what you're looking for? We can plan a custom-made food experience or itinerary just for you.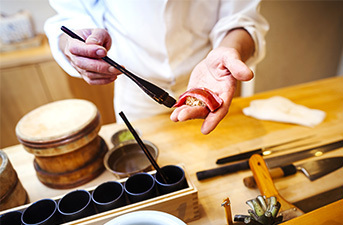 Shizuoka Tea Tour
Considering that Shizuoka produces 40% of green tea in Japan, it's no surprise that Japanese green tea is the most famous and prized product hailing from the Shizuoka Prefecture. Nestled between Tokyo and Nagoya, beautiful landscapes full of green tea fields are found glowing throughout the Shizuoka region. Located at the base of Mount Fuji, Shizuoka is a great place to make matcha for its clean, quality waters, plus plenty of room to grow quality tea leaves in the vast and fertile tea fields. Discover the rural landscapes of the Shizuoka region as you learn all about green tea during an immersive Shizuoka tea tour. Escape into the countryside, take a break from city life and experience what it's like from harvest to production to the first sip! During a Shizuoka tea tour, you could even find yourself experiencing a tranquil Japanese tea ceremony and learn how to prepare matcha green tea for yourself. Or, wander through the tea fields, visit a production factory, and enjoy tasting locally-made green tea with a tea-themed lunch. As an easy day trip from Tokyo, there's no better place to try Japanese tea than Shizuoka.