Tailor-Made Tours
Can't find what you're looking for? We can plan a custom-made food experience or itinerary just for you.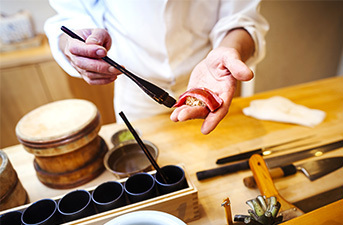 Frequently Asked Questions
How to reserve fugu restaurants in Tokyo?
To book a fugu restaurant in Tokyo, you can simply phone the restaurant directly, however there is a chance that you will come across a language barrier when doing so, if you are not familiar with Japanese. A simpler way to reserve a fugu restaurant in Tokyo is to use an online service such as byFood, which aims to help foreigners book restaurants when they come to Japan. When reserving a restaurant using byFood, you can filter restaurants according to cuisine, like fugu, and different areas such as various districts in Tokyo. Once you have decided which fugu restaurant to reserve, just add your reservation information to the restaurant page. The platform will make a reservation on your behalf and send you a confirmation email. Or, if the reservation was unsuccessful, you will receive a declined reservation email instead.
Is a reservation required for fugu restaurants in Tokyo?
Most fugu restaurants in Tokyo require a reservation, however this is not always the case. Depending on the fugu restaurant, a reservation might be required particularly for high-class establishments. It is still a good idea to reserve a mid-range fugu restaurant ahead of time so as not to miss out.
What is the average cost of a meal at fugu restaurants in Tokyo?
On average, fugu restaurants in Tokyo will cost between 10,000 and 30,000 yen, depending on the restaurant. Cheaper options are also available, where you can expect to spend between 4000 yen and 6000 yen for a fugu meal.
Fugu Restaurants in Tokyo
Since 1985, fugu restaurants in Tokyo have been required to be licensed to prepare and serve fugu dishes. Better known as pufferfish in English, fugu is the potentially deadly Japanese delicacy that wildly tempts the culinary adventurous. Fugu restaurants in Tokyo are reliable, requiring chefs to complete professional training to learn how to carefully remove the poisonous parts of the pufferfish before serving.
If there were ever a time to try fugu, a trip to Tokyo would be just the perfect opportunity. Enjoy it as thinly sliced sashimi pieces or served simmering in a steaming nabe hot pot. Whether it be at a classy restaurant in Ginza, or a more hidden restaurant in the otaku district of Ikebukuro, there are plenty of options for you to enjoy fugu at a restaurant in Tokyo. Taste fugu at a sushi train in Asakusa or at a kaiseki restaurant in Tokyo on the top floor of a Shinjuku skyscraper. With direct access to the world's largest fish market, Toyosu Fish Market, fugu is a food in Japan that you should experience at one of Tokyo's speciality restaurants!