Tailor-Made Tours
Can't find what you're looking for? We can plan a custom-made food experience or itinerary just for you.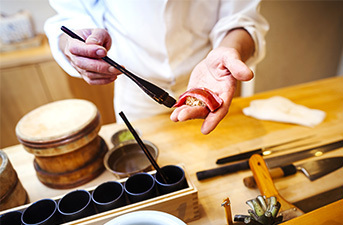 Frequently Asked Questions
How to reserve kaiseki restaurants in Tokyo?
Most kaiseki restaurants in Tokyo can be reserved ahead of time by making a direct phone call to the restaurant itself. However, depending on your Japanese language ability, this may prove difficult. Alternatively, there are several online booking services that support foreigners to make online reservations for restaurants throughout Tokyo and Japan. ByFood is a useful online platform where you can filter different types of restaurants (including kaiseki restaurants) according to budget and locations. Once you have picked out which kaiseki restaurant in Tokyo you want to reserve, you can easily add your reservation details to the restaurant page. ByFood will send you through a confirmation email unless the reservation is rejected, in which case you will receive a failed reservation email.
Is a reservation required for kaiseki restaurants in Tokyo?
Yes, kaiseki restaurants in Tokyo generally require a reservation. Some Tokyo kaiseki restaurants are very popular and can be totally booked up weeks or even months in advance. To avoid missing out, it is a good idea to reserve a kaiseki experience ahead of time.
What is the average cost of a meal at kaiseki restaurants in Osaka?
The average price per head for a kaiseki meal in Osaka is 15,000 yen at dinner time. However, this can range between 8000 yen and 20,000 yen, or even more. Kaiseki restaurants in Osaka often offer lunch deals, which cost an average of 4000 yen.
Kaiseki Restaurants in Tokyo
Enjoying a luxury kaiseki meal in Tokyo is one of the most incredible and authentic Tokyo dining experiences of Japanese food available. Making food into an art form, traditional kaiseki meals are sumptuous, multi-course banquets. Different courses made from carefully selected ingredients use a range of techniques covering all of the essentials of traditional Japanese cuisine: a deep-fried course, a steamed course, sashimi for freshness, and the list goes on. There are so many delicious elements that make up an unforgettable kaiseki meal. In restaurants overlooking the glittery city to traditional Japanese restaurants in local neighborhoods, experience different culinary approaches at kaiseki restaurants throughout Shibuya, Asakusa, Roppongi and more.
Enjoy the spirit of hospitality as your specialty chef serves a series of individual dishes, each referencing the different elements of Japanese cooking. Sit back and enjoy the atmosphere with each kaiseki dish presented perfectly, with a nod to the seasons. You could even find yourself staying overnight at a traditional ryokan hotel, one that's tucked away on the underside of the big city with a kaiseki dining experience to match your stay in Tokyo.
For those who want to enjoy kaiseki ryori without the high price tag, kaiseki restaurants in Tokyo sometimes offer a lunchtime version of their spectacular meals, too. You can enjoy an abridged set meal eating the best elements of a kaiseki banquet, but without the big price tag. With the range of exquisite kaiseki restaurants available throughout Tokyo, you can still enjoy kaiseki dining at an affordable kaiseki restaurant that offers a unique cultural experience.
If you want to enjoy some of the best kaiseki restaurants in Tokyo, it is definitely worth reserving ahead of time, before you dine, especially if you are planning on visiting a Michelin-starred restaurant in Tokyo. Many high-status kaiseki restaurants are popular, so reserving beforehand means you can lock in the unique dining experience you have always wanted. Place a reservation now for a banquet that you will never forget, one full of traditional Japanese food that is cooked to perfection at a kaiseki restaurant in Tokyo.