Filters
Host Donations (high to low)
Newest First
Price (low to high)
Price (high to low)
Rating
Number of Reviews
Tailor-Made Tours
Can't find what you're looking for? We can plan a custom-made food experience or itinerary just for you.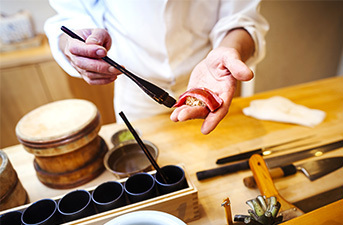 Join The Best Gluten-Free Cooking Classes in Japan
While Japanese cuisine is known for rice rather than wheat, gluten-free Japanese food isn't very common. There may be hidden ingredients with gluten in them, such as soy sauce, which make Japanese food unsafe for those with celiac disease. But thankfully, whether you have celiac disease, a gluten intolerance, or are avoiding wheat for health reasons, you can join these gluten-free cooking classes in Japan!
There are a variety of gluten-free cooking classes in Japan, including a homemade soba cooking class in Tokyo, an okonomiyaki cooking class in Kyoto, and several gluten-free cooking classes in Kanagawa. You can explore the Japanese cuisine without worries, as all the dishes in theses classes are made without flour or wheat products! Your cooking instructor will teach you how to make healthy and tasty dishes, so you can become a master at Japanese home cooking. You may be gluten-free, but that doesn't have to stop you from exploring Japanese food culture and customs. Plus, these Japanese cooking classes will give you the skills to make your own Japanese food at home. It's the perfect souvenir to take home!