Filters
Host Donations (high to low)
Newest First
Price (low to high)
Price (high to low)
Rating
Number of Reviews
Tailor-Made Tours
Can't find what you're looking for? We can plan a custom-made food experience or itinerary just for you.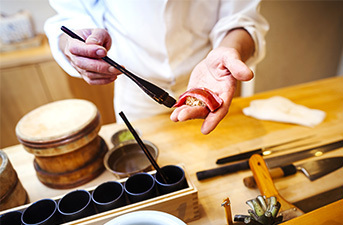 Enroll in Top Vegan Cooking Classes in Kyoto
Cooking can be stressful for some and therapeutic for others, but in Kyoto it is certainly considered as an art form. Made from seasonal products that are locally harvested, many typical dishes of local food in Kyoto are inherently vegan. Using seaweed, root vegetables, and tofu that's regionally famous, Kyoto cooking combines a lot of vegan elements across many dishes in delicious ways. You can learn how to make vegan versions of the exquisite Kyo Ryori or Kyoto cuisine by joining one of our exciting vegan cooking class in Kyoto! Kyoto is also the birthplace of the plant-based Japanese Buddhist cuisine, Shojin Ryori, so it is the perfect place to learn how to make the most of the abundant local produce.
The cultural capital of Japan certainly seems fitting to learn about vegan ingredients and apply new skills as you cook your own vegan creations. Wagashi is another example of traditionally plant-based foods in Japan, made from bean paste and rice flours. Kyoto takes a certain pride it is local sweets, called Kyogashi, and you can learn to make your own in a wagashi making class in Kyoto! You can also learn to prepare powdered matcha during a tea ceremony class, or make a traditional bento box from vegan ingredients. Vegan ramen and vegan sushi? It's all possible, and more! Check out our vegan cooking classes in Kyoto, or regular cooking classes that offer delicious vegan alternatives.