Tailor-Made Tours
Can't find what you're looking for? We can plan a custom-made food experience or itinerary just for you.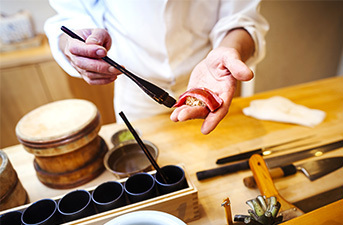 Frequently Asked Questions
How to reserve vegetarian restaurants in Kyoto?
You can always reserve vegetarian restaurants in Kyoto ahead of time by calling the restaurant directly. Sometimes, however, there can be difficulties due to language constraints when making a reservation. Alternatively, you can ensure seats at a vegetarian restaurant in Kyoto by reserving online through one of the many platforms that assists foreigners in making reservations. Reserving on byFood is easy, particularly for those who have dietary requirements such as vegetarian. The byFood platform will allow you to search for vegetarian restaurants based on location and meal offerings. ByFood makes it easy to find restaurant options that cater to various dietary requirements and preferences. It is simple to select your restaurant and add your reservation details. Next, byFood will contact your chosen restaurant for you. You will receive a confirmation email, or in the case that the reservation has been rejected, you will receive a failed email.
Is a reservation required for vegetarian restaurants in Kyoto?
Reservations are generally not required for vegetarian restaurants in Kyoto. This depends on the restaurant, however. In some cases, casual vegetarian restaurants will not allow advance bookings, while high-class restaurants such as kaiseki dining or specialty restaurants require a reservation.
What is the average cost of a meal at vegetarian restaurants in Kyoto?
The cost of a meal at vegetarian restaurants in Kyoto range from under 1000 yen to 2500 yen. The average dinner will cost 3000 yen. Depending on the restaurant, more high-end vegetarian meals can cost 5000 yen or more.
Vegetarian Restaurants in Kyoto
Some of the best food in Kyoto is inherently vegetarian, made from local "Kyo-yasai" or regional vegetables and produce from Kyoto. This city of creativity and culture embraces traditional aspects of preparing and serving high-quality Japanese food. In fact, meat was not eaten before the Meiji Restoration, but only once the country opened up again, the ban on meat consumption was removed. Today, vegetarian restaurants in Kyoto are plentiful throughout the city, serving up fresh and sustainable meat-free dishes. Kyoto cuisine or "Kyo-ryori" is widely known for its use of locally-grown ingredients, with menus focusing on whatever is in season. Whether it be a vegetarian buffet or exquisite vegetarian kaiseki banquet, there are a range of vegetarian restaurants in Kyoto that will suit your taste buds and your budget!
Among all the beautiful temples and shrines down side alleys, you never know what kind of vegetarian Japanese restaurants and local gems you will come across. For example, tofu restaurants in Kyoto offer great vegetarian options including high-quality tofu from the locality, as well as regional fruit, vegetables, and other produce. Kyoto is one of the best cities in Japan for vegetarians with plenty of vegetarian restaurants available with offerings like vegetarian set meals or vegetable ramen. There are even vegan restaurants in Kyoto serving up plant-based dishes only, with others specializing in Buddhist shojin ryori cuisine.
Make the most of the city's quality and diverse vegetarian Japanese cuisine, accentuated by seasonal ingredients and always beautifully presented; book a vegetarian restaurant in Kyoto to enjoy an amazing cruelty-free and environmentally-friendly meal.